Anyone waiting for an excuse to head to a lake may just have a chance this weekend as the heat in Germany cranks up a notch.
From Friday, weathers experts predict that some parts of Germany – particularly along the Rhine and surrounding areas – will see temperatures shoot up to 30C and even reach 33C over the weekend.
Outside western Germany, there will still be a chance to change into summer clothes as temperatures are set to range between 24-29C on Friday across the non-coastal regions.
READ ALSO: Living in Germany: Making the most of culture and lake life
However, the southeast and east of the country are likely to see more changeable weather than the dazzling sunshine of the past few weeks, with overcast skies, showers and rainstorms expected ahead of the weekend.
The weekend looks set to be much warmer and brighter in most regions, with residents of Berlin and Brandenburg enjoying clear skies and temperatures of up to 30C. 
According to the German Weather Service (DWD), the mountainous regions in the east and southeast of the Bundesrepublik could see some isolated showers and thunderstorms, but the rest of the country should see summery highs of between 24C and 29C.
For those dreading sweltering tropical nights, there's also good news: temperatures are likely to cool off significantly in the evenings, with highs of between 10C and 18C across Germany. 
What about the rest of the week?
Temperatures will generally stay warm this week, though the weather conditions will be much more changeable between Tuesday and Thursday.
Residents of Bavaria, Thuringia and Saxony start the week off with dense clouds and some isolated showers, with the overcast skies stretches as far north as southern Brandenburg. 
In most cases, however, the weather will remain in the mid- to high-20s, with parts of Brandenburg even seeing highs of 27-28C. 
In the rainier parts of the country, however, expect slightly lower temperatures of around 22C.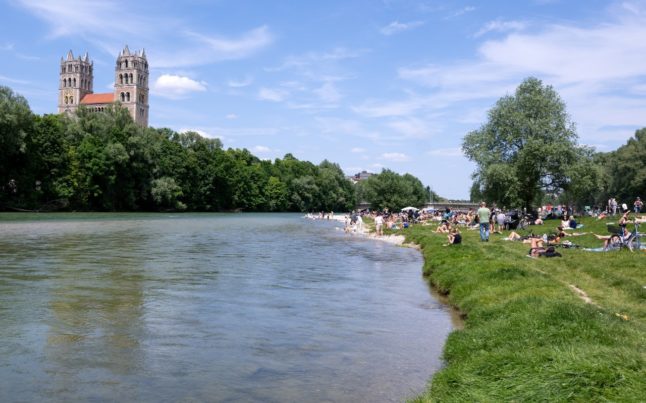 People enjoy sunny weather on the banks of the Isar in Munich. Photo: picture alliance/dpa | Sven Hoppe
On Wednesday and Thursday, there should be a mix of sunny skies and clouds, with parts of the country also seeing some localised thunderstorms.
Once again, Bavaria could be the worst-hit by the changeable weather, with some thunder and lightning expected, although temperatures will remain summery.
After the weekend heatwave, people in the south and southwest may continue to enjoy temperatures of around 30C, though elsewhere the mercury will slip down to between 23C and 28C. 
READ ALSO: Germany's top 10 most beautiful summer swimming spots
Mountainous areas in the south and west could experience thunderstorms, and the glaring sunshine could be interrupted by some clouds and light easterly winds. 
For those who don't have a chance to get their barbecues out on Saturday or Sunday, however, this certainly won't be their last chance: experts predict that this June will be much drier and sunnier than average.