After months of discussion with mayors, hotel owners and tenants' associations, Italy's tourism ministry last week released the first draft of a new law which it says will curb short-term tourist rentals, including Airbnb lets, around the country.
The draft bill is essentially the government's response to growing concerns about how Italy's booming tourist rental market is thought to be worsening a shortage of affordable housing in major Italian cities.
The bill is also reportedly intended as a partial answer to chronic overcrowding in many tourist destinations around the country.
At this point, it's a long way from becoming law, with at least one round of future amendments very likely.
But the decree looks set to bring in significant changes to the tourist rental market, with consequences for both property owners and renters, and has provoked a widespread debate in Italy.
READ ALSO: Why are long-term apartment rentals 'disappearing' in Italy?
While some welcome the introduction of a nationwide legislation – since Italy's short-term rental market is currently regulated by local ordinances only – the bill has also faced criticism, with campaigners for affordable housing in particular saying the regulations don't go far enough.
Which types of rentals are affected?
The planned decreto affitti brevi (short-term rentals decree) will, as the name suggests, clamp down on short-term lets. Under Italian law, this is defined as any rental period of 30 days or less.
That means it looks set to impact any type of tourism rental business – from Airbnb to villa rentals.
READ ALSO: The tourism restrictions Italy is planning this summer
The new legislation is set to have a wide-ranging impact in Italy, which has the third-biggest market for short-term lets in the world after the US and France.
Rome and Milan have the most available short-term lets, with 19,777 and 17,319 respectively, according to the latest data from the holiday rental analytics site AirDNA.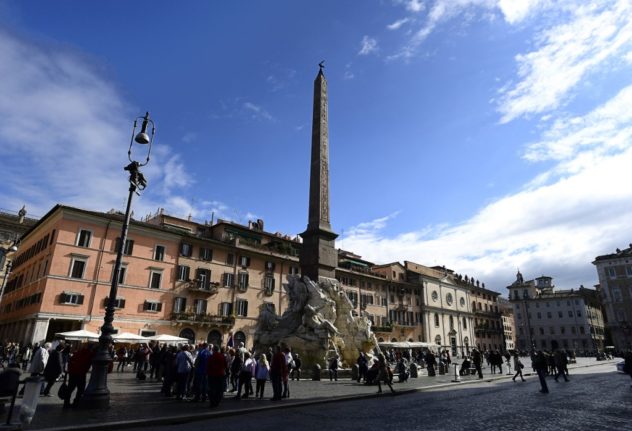 Rome has the highest number of tourist lets of any Italian city. Photo by MIGUEL MEDINA / AFP.
What will change?
In its current form, the decree includes two main measures: a two-night minimum stay requirement and a new type of identification code for property listings.
The minimum stay of two nights would apply to short-term rentals in all of Italy's 14 metropolitan cities (Bari, Bologna, Cagliari, Catania, Florence, Genoa, Messina, Milan, Naples, Palermo, Reggio Calabria, Rome, Turin and Venice).
The draft states that this limit will also apply in any comune with a high or very high 'tourist density index' (indice di densità turistica) according to national statistics bureau Istat.
The two-night minimum stay seems to be aimed at promoting longer visits and making so-called 'hit and run' tourism, or very short stays, less common as Italian authorities believe this contributes to overcrowding in the most popular areas.
READ ALSO: OPINION: Why more of Italy's top destinations must limit tourist numbers
This change means that people visiting for one night would be limited to staying in a hotel, assuming they can find one with availability.
Curiously, "large families" would be exempt from this restriction, according to the decree – defined as those with at least one parent and three children. However, it was unclear how the composition of a family could be checked or the rule enforced.
Rentals in towns with less than 5,000 residents would however be exempt from the restriction.
The decree would also make it mandatory for all short-term accommodation facilities (B&Bs, holiday homes, short-term lets, etc.) to have a national identification code (codice identificativo nazionale, or CIN), as opposed to the regional identification code (codice identificativo regionale, or CIR) currently required.
The decree states that this new "uniform regulation at national level" is aimed at "tackling the danger of oversized tourism … and safeguarding the residential status of historical centres, preventing their depopulation".
Owners or property managers are already supposed to include their property's CIR code on the accommodation website and in all online listings, including on platforms such as Airbnb.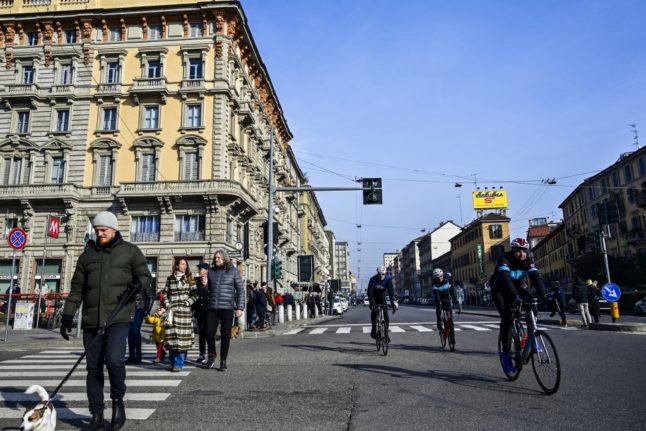 High rents in central Milan are driving out locals. Photo by MIGUEL MEDINA / AFP.
Under the new decree, the regional code would be replaced by the national one, with the rules largely remaining the same.
The enforcement of the rules so far, however, has been loose and inconsistent.
"Platforms are already obliged to display the identification code, which is currently regional," Marco Celani, president of Italian property owners' association Aigab, tells Idealista. "But in the absence of checks and automatic blocks it is impossible for portals to block listings without having an agreement with the regions on the format of codes."
"In other words, an illegal operator can invent a code, and enter it in the portal which today there's no way of checking."
READ ALSO: What are Italy's rules and taxes for Airbnb rentals?
The hope is that a standardised, national version of this code would enable platforms to block invalid codes, Celani says, "as happened in Greece at the beginning of the year, giving incredible results in terms of fighting illegal and undeclared work."
The decree also forsees fines of up to 5,000 euros for property owners who don't follow the rules and 3,000 euros for sites which don't ensure codes are displayed on listings, though the job of enforcing these fines would reportedly be left up to each town or city's local authority.
Tighter local restrictions?
Separately from the planned national regulations, some of the Italian cities and regions most loved by visitors are planning to further restrict tourist lets.
Several cities say they plan to restrict the number of short-term lets available in a bid to free up housing and make renting more affordable for residents – notably including Venice and Milan,, where possible limits have long been under discussion. However, neither city seems ready to make these changes a reality just yet.
READ ALSO: How to find a longer-term apartment rental in Italy
In Florence, the wheels of enhanced regulation already appear to be turning. Mayor Dario Nardella announced in a press conference last Thursday that the municipality intends to pass a resolution that would limit new tourist accommodation in the city's historic centre.
Holiday rentals in the Tuscan capital are so profitable that many homeowners have moved out in order to turn their apartment into a short-term let, draining the city of its permanent inhabitants.
The problem has become "structural", Nardella told reporters: "We realise it is a bold regulation, but we know that we can defend it legally."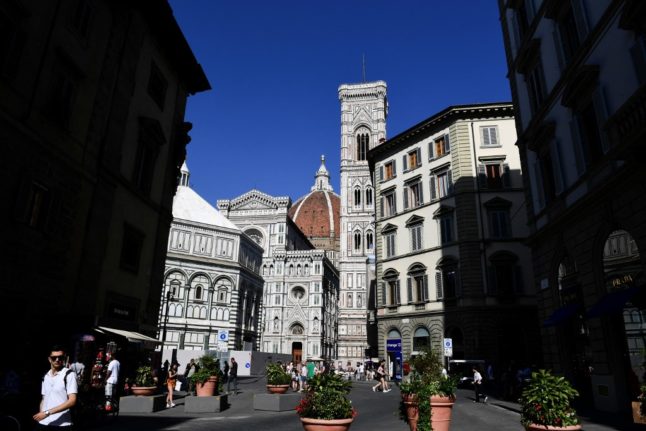 Will a cap on tourist accommodation save Florence from depopulation? Photo by Miguel MEDINA / AFP.
Providing a template for these tourist hotspots is the northern Italian city and autonomous province of Bolzano, a gateway to the Dolomites mountain range popular among hikers and skiers, where authorities introduced a cap on tourist accommodation in September 2022.
Provincial Councillor for Tourism Arnold Schuler confirmed in April that the maximum limit would be set at 239,088 posti letto (beds) made commercially available to visitors in the area.
This amounts to 34 million tourists annually – the same number the province received in 2019, before Covid hit.
"We realised that our territory, our community and our resources such as water and energy had reached a level of exploitation that should not and could no longer be exceeded," Schuler told La Repubblica when the figure was announced.
"We have now reached more than 34 million overnight stays, and that's enough."