As June gets underway, schools in a number of states are beginning their summer holidays, marking the start of Germany's peak travel season.
From next week, the populous states of Bavaria, Baden-Württemberg and Rhineland-Palatine will all be on their summer break, with North Rhine-Westphalia due to follow at the end of June.
But the spectre of further strikes on Germany's rail network is casting a shadow over many people's travel plans – especially those who are planning a staycation. 
That's largely because, after three rounds of negotiations, the rail union EVG and Deutsche Bahn still seem far away from reaching a pay deal.
While Deutsche Bahn is pitching a 12 percent pay hike over two years, EVG is insisting on 12 percent over 12 months, with a minimum pay rise of €650 per month to ensure lower earners get a steeper increase than their better-paid colleagues. 
In the latest exchange of blows between the two parties, EVG turned down the latest improved pay offer from Deutsche Bahn and slammed the proposals as "socially unjust".
On Wednesday, the union also called on the rail operator resume talks and made a thinly veiled threat of further industrial action if DB refused.
"If nothing happens at the negotiating table, we have to apply pressure with #Warnstreiks," it tweeted.
READ ALSO: German rail workers reject Deutsche Bahn pay deal: Are more strikes looming?
When could the next strikes happen?
According to media reports, EVG has ruled out strikes over the weekend, meaning rail passengers can breathe a sign of relief if they're travelling on Saturday or Sunday.
That's partly because any new round of strikes would require an internal vote, and also because Saturday marks the 25th anniversary of a tragic ICE accident in Eschede that saw 101 people lose their lives. 
"It is important for colleagues that we will not strike on this day and also not on the days of arrival and departure for the commemoration on Friday and Sunday," EVG chief negotiator Kristian Loroch explained.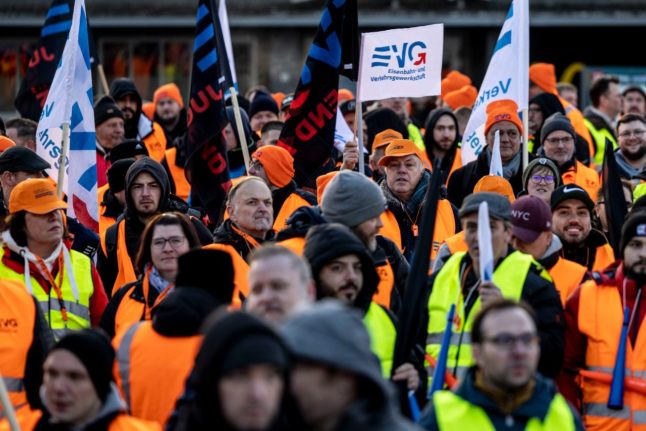 Demonstrators from the EVG rail union gather in front of Duisburg Hauptbahnhof during a strike in March. Photo: picture alliance/dpa | Christoph Reichwein
However, union sources have told Focus magazine that a strike on Monday or Tuesday is "highly likely" – partly because of the disruption it could cause over the busy holiday period.
There has also been speculation that EVG is waiting to see what rival train drivers' union GDL will propose when it put forward its own pay demands on June 5th. 
Though GDL isn't set to negotiate a new collective agreement until autumn, the union has has a combative relationship with EVG and has previously attacked the larger rail union for being too moderate in its demands. 
That suggests that GDL's latest bid could act as a bellwether in EVG's ongoing negotiations.  
Can more strikes still be avoided?
Earlier in the week, another round of national rail strikes appeared inevitable – but EVG's tone softened slightly ahead of the weekend. 
According to reports in Tagesschau, Deutsche Bahn has now agreed to sit back at the negotiating table with EVG after initially ruling out more talks as "pointless".
READ ALSO: EXPLAINED: How to get compensation for delayed or cancelled trains in Germany
In a release announcing the news on Thursday evening, EVG steered clear of any mention of strikes.
However, it is still common practice in Germany for unions to call warning strikes ahead of scheduled talks as a way of flexing their muscles and strengthening their hand in negotiations.
These are normally announced a few days before they happen.