People in Germany can expect a nationwide holiday on Monday May 29th for Pfingsten (Pentecost).
As many people are getting a day off work to enjoy the long weekend, the roads are going to be busy. 
Germany's ADAC – Europe's largest automobile association – says drivers should expect worst traffic jams on Friday afternoon, Saturday morning and on Whit Monday. 
"Holidaymakers must be prepared for long traffic jams on the Whitsun weekend," said the ADAC. "Holiday traffic as well as more than 1,300 road works will make car journeys a test of patience."
READ ALSO: 9 of the best day trips from Frankfurt with the €49 ticket
By contrast, it should be relatively quiet on the trunk roads on Whit Sunday. 
Here are the routes (and areas) expected to be most congested:
Greater Berlin, Hamburg, Cologne, Frankfurt, Stuttgart, Munich
Trunk roads to the North Sea and Baltic Sea
A1 Cologne – Dortmund – Bremen – Lübeck
A2 Dortmund – Hanover – Berlin
A1/A3/A4 Cologne ring road
A3 Oberhausen – Frankfurt – Nuremberg – Passau
A4 Kirchheimer Dreieck – Erfurt – Dresden
A5 Hattenbacher Dreieck – Frankfurt – Karlsruhe – Basel
A6 Kaiserslautern – Mannheim – Heilbronn – Nuremberg
A7 Hamburg – Flensburg
A7 Hamburg – Hanover – Würzburg – Füssen/Reutte
A8 Karlsruhe – Stuttgart – Munich – Salzburg
A9 Munich – Nuremberg – Berlin
A10 Berlin Ring
A11 Berliner Ring – Uckermark junction
A19 Wittstock/Dosse triangle – Rostock
A24 Berlin – Hamburg
A61 Mönchengladbach – Koblenz – Ludwigshafen
A81 Stuttgart – Singen
A93 Inntaldreieck – Kufstein
A95 / B2 Munich – Garmisch-Partenkirchen
A96 Munich – Lindau
A99 Munich bypass
Another obstacle that could make travel difficult is roadworks. The ADAC said there are currently 1,304 motorway construction sites across Germany.
Here's where there are some short-term closures:
A45 Hagen – Gießen in both directions between Hagen-Süd and Lüdenscheid-Nord on Sunday, May 28th, from 10am to 4pm
A59 Düsseldorf – Cologne in both directions between Kreuz Leverkusen-West and the end of the A59 extension (Rheinallee) from 10pm on Friday, May 26th, to 10pm on Sunday
A30 Amsterdam – Rheine in both directions near Salzbergen until May 30th, 5pm
Here's a look at the longer-term closures to look out for:
A44 Kassel towards Dortmund between Dreieck Kassel-Süd and Kreuz Kassel-West until 30th January 2024
A45 Hagen towards Gießen between Lüdenscheid-Nord and Sauerland service area until further notice
A45 Gießen towards Hagen between Lüdenscheid and Lüdenscheid-Nord until further notice
A49 Kassel towards Gießen between Kreuz Kassel-West and Baunatal-Mitte until January 30th 2024
A66 Wiesbaden – Frankfurt in both directions between Wiesbaden-Biebrich and Wiesbaden-Mainzer Straße until further notice
A94 Munich – Passau in both directions between Malching and junction B12-Malching-Nord until September 30th 2023
A226 Travemünde direction Bad Schwartau between Lübeck-Siems and Dreieck Bad Schwartau from now until June 19th, 5 p.m.
Keep in mind that diversions are signposted and there may be some changes at short notice.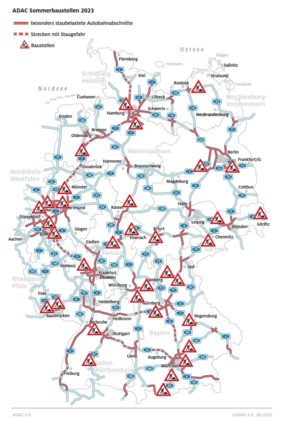 Building sites and expected congested traffic over the holiday weekend. Photo: ADAC/DPA
What about neighbouring countries?
If you're driving out of Germany, you'll also probably experience some heavy traffic. 
International routes such as the Tauern, Inntal, Rheintal and Brenner motorways, as well as the Gotthard route are likely to be affected. 
Some popular destinations include the Carinthian lakes, the Salzkammergut and Lake Neusiedl in Austria as well as resorts in the Swiss cantons of Ticino and Valais.
If you are heading into neighbouring Austria, note that the Arlberg road tunnel is closed until the beginning of October, and drivers have to use the Arlberg Pass as a detour.
READ ALSO: Which foreign countries can you visit with Germany's €49 ticket?
Can you avoid the traffic?
Experts say that people shouldn't take a secondary route unless it's an official diversion. 
That's because traffic then builds up on smaller roads and clogs up smaller towns. 
"The police strictly control the alternative routes on the weekends and holidays," said ADAC traffic expert Alexander Kreipl. Rescue services can also be affected by the increased traffic volume if too many people use other routes. 
Instead it's best to try and travel at a time that isn't so busy – or make sure you have plenty of water, snacks and good music in the car and be prepared to wait.