In 2010 Gianni Mion was managing director of the Benetton family's holding group, Edizione, which owned Autostrade per l'Italia (Aspi), the company paid by the state to manage the Morandi bridge.
"In a meeting between managers and executives, doubts arose about whether the Morandi bridge could remain standing, due to a serious design flaw," Mion told a court in Genoa on Monday at a trial hearing.
READ ALSO: Genoa bridge collapse: 59 people to stand trial over disaster as operator settles
"I asked if there was a third party that certified the stability of the viaduct. They told me that we self-certified it. That answer terrified me," he said, according to Italian news agency reports.
"Nobody thought, though, that it would collapse and we were reassured on that point. I didn't say anything but I was worried. I didn't do anything and that's my big regret," Mion was quoted as saying.
Nearly 60 defendants went on trial in Genoa in July last year, accused of manslaughter and undermining transport safety over the collapse of the bridge in the northwest Italian city.
The Morandi bridge gave way in torrential rain on August 14, 2018, sending dozens of vehicles and their passengers tumbling into the abyss.
Egle Possetti, who heads a committee of victims' relatives, said it was "unacceptable" for someone of Mion's position to have remained silent.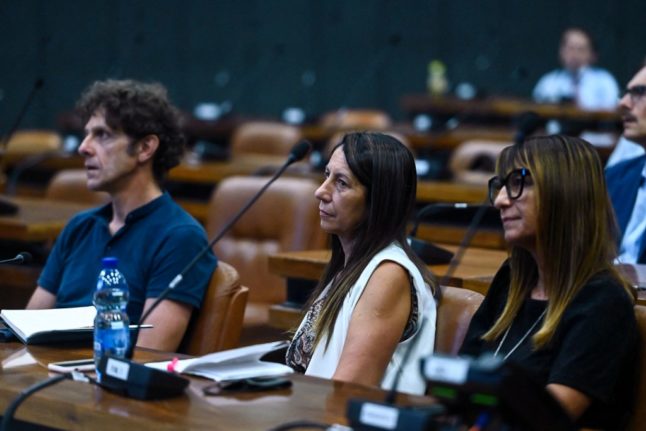 Egle Possetti (C), at the first hearing of the Morandi bridge collapse trial on 7 July, 2022. Photo by Piero CRUCIATTI / AFP.
Those on trial include the general manager of Autostrade at the time, Giovanni Castellucci, and Antonino Galata, the former head of Spea, the engineering company in charge of maintenance.
Roberto Tomasi, who took over as general manager of Autostrade in 2019, told the court on Monday that "the level of network degradation was substantially worse than Spea's inspections stated".
READ ALSO: 'The sadness is unending': Italian families' pain still raw ahead of Genoa bridge trial
He said Spea was not considered to be "reliable" and "the behaviour of some of its employees was unacceptable".
Even though their former directors are on trial, Autostrade and Spea will escape the courts, thanks to an out-of-court settlement with the public prosecutor's office, which provides for a payment of 29 million euros ($30 million) to the state.