Rome residents and visitors queued down the street on Thursday to get a taste of Starbucks' newest opening in Italy, as the multinational opened the doors to its first branch in Rome.
The latest outlet in Italy, where the company has some 26 stores already, opened in a refurbished two-storey building opposite the Italian parliament building, Palazzo Montecitorio, in the heart of Rome's historic centre.
The menu featured Starbucks' controversial new olive oil-infused coffee drinks as well as espresso priced at €1.40 or €2.80 – compared to the typical price locally of around €1.
While the shop's signage was discreet, a small crowd was gathered outside on Thursday to snap photos and comment on the new addition.
"I have to take a photo for my daughter," commented one, while another passer-by said of the arrival: "This is really bad for Rome."
READ ALSO: Where, when and how to drink coffee like an Italian
Thursday's opening came around a year after a branch opened its doors at the Castel Romano shopping centre in the city's suburbs.
Though views on the chain's presence in Italy are decidedly mixed, the latest opening appeared to prove the success of the US company's operations in Italy as it marked the first step in a major expansion into the south of country.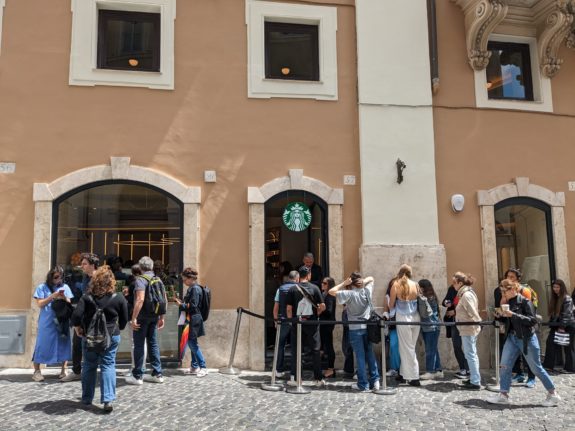 The new Starbucks branch in central Rome after it opened on Thursday, May 11th. Photo: Elaine Allaby/The Local Italy
Vincenzo Catrambone, General Manager of Starbucks for Percassi, the coffee giant's partner in Italy, stated on Thursday: "In Rome, the goal is to open several branches, one for each district in the capital."
"After the opening in Milan, we received many requests to open in Rome and finally today we are in the heart of the city."
He confirmed that two outlets would open at the city's main Termini train station "in a few days", with one branch to be located upstairs and the other on the ground floor according to local media reports.
Another store is set to open in Genoa next week.
The company also announced on Thursday morning that it is planning to open branches in Naples and Bari as it pushes ahead with an expansion further south.
The company is planning to open 13 more Italian outlets this year, reaching a total of 36 across the country. 
Starbucks has been operating in wealthier northern Italy since it first opened in Milan in 2018, when there were widespread predictions of its imminent failure in a country famed as Europe's coffee capital and the home of espresso shots drunk standing at the counter at family-owned bars. 
But the south of the country – where tradition is stronger and disposable incomes lower – is seen by multinational fast-food chains as a harder market to crack.