This hallmark of Swiss culture goes far beyond financial matters. The sanctity of citizens' "Privatsphäre" (personal privacy) has shaped the justice system and media reporting, as well as everyday social interactions.
There are some potential benefits for ordinary law-abiding citizens, especially in the area of data. But privacy provisions often protect those with something to hide. We can start with the big one – banking secrecy.
The demise of Swiss banking secrecy was celebrated or mourned in 2018, depending on your perspective. That was the year when Switzerland first took part in the automatic exchange of banking information with foreign tax authorities, as spearheaded by the OECD.
But this change only applied to non-resident customers of Swiss banks in the countries participating in the automatic exchange system. More than 90 countries, including the world's poorest and most corrupt economies, are not yet included due to lack of legal or IT infrastructure. Without proof of wrongdoing, their authorities have no way of checking on citizens' Swiss bank accounts.
Overall, we're still talking about a large client base from outside Switzerland. Almost half (47.4 percent in the latest Banking Barometer) of the 8.8 trillion francs in assets under management in Switzerland belongs to foreign clients.
Meanwhile, Swiss customers still enjoy most of the old protections of the original 1934 Banking Act, under which it is an offence for bank employees to reveal account information to third parties. The penalty for sharing information is high – up to five years in prison or a steep fine.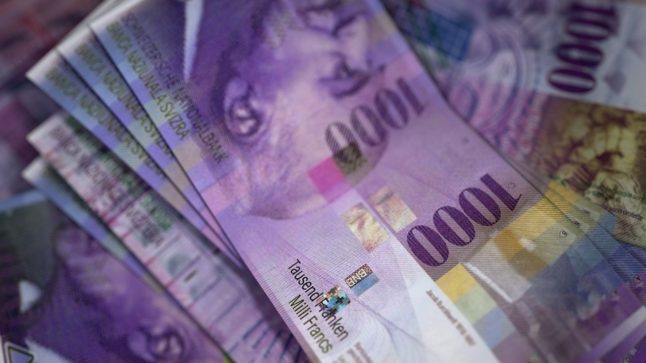 Swiss francs. Photo: Pixabay
Since 2015, the same legal restriction has also applied to journalists who get hold of stolen bank account information. This is why Swiss media were unable to participate in the investigation of the "Suisse Secrets" data that emerged in 2022, exposing unsavoury clients of Credit Suisse.
Switzerland is ranked second in the latest Financial Secrecy Index compiled by the Tax Justice Network. Interestingly, the United States is in first place.
READ ALSO: Switzerland remains top of 'financial secrecy' as US rises to second
The self-declaration-based Swiss tax system has built-in leeway, where lying by omission in your tax return is not a crime, as long the potential tax owed is under 250,000 francs. Government plans in 2017 to tighten the criminal code for domestic tax offenders had to be abandoned because of the backlash. 
Privacy for criminals
Moving away from money, the most baffling example of the Swiss prioritising privacy can be seen in crime reporting. There is no public record of criminals' names. Neither the police not the courts will name a defendant or convicted criminal. The media are generally obliged to follow suit.
Not to be vindictive, but I've always taken it for granted that public shaming should be one of the consequences of committing a crime. It is in most other jurisdictions but not in Switzerland. It seems that personal interest here takes precedence over public interest.
Take a recent case reported by the NZZ newspaper in which a male university professor secretly filmed students living under his roof. In the guise of being a generous mentor, he invited female students to live in an apartment in his house, where he had installed hidden cameras.
There were at least 10 victims over several years. When the young women found out, the impact was devastating. They went to the trouble of cooperating with the police and going through the long process of the trial.
And the result: the professor, who kept his anonymity, was fined a few thousand francs and is still working in Switzerland. Ironically, the reputation of a male criminal is clearly worth more than the violated privacy of 10 women.
As the Swiss Press Council reminds members, even "a murderer and his relatives, who are affected by the reporting of a trial, have a right to protection of their privacy, regardless of the heinousness of the crime committed". 
Silver lining to privacy culture?
If there is any silver lining to the Swiss privacy culture, it could be in the realm of state surveillance. According to the constitution, every individual has a right to privacy in their private life and in relation to their telecommunications and mail. People also have the right to be protected against data misuse.
All surveillance requests must go through the courts and prosecutors are obliged to notify the target of surveillance, who then has the option to appeal through the courts.
The encrypted email provider Proton Mail, for instance, which traces its origins to the European Organization for Nuclear Research (CERN), where many of its early team members worked, deliberately chose Switzerland as its base in 2014.
"When we investigated the legal considerations about where to establish our growing service, it became clear that Switzerland was in fact a hospitable location for a tech company focused on privacy," Proton states on its website.
In addition, a new data protection law comes into force in September of this year, designed to align Swiss law with European Union GDPR legislation. The law imposes new obligations on companies with regard to the collection or misuse of personal data.
As always, there are exceptions to the rule. If there is one area which badly needs more privacy applied in Switzerland, it is recruitment. Job applicants are still advised to include their civil status and children, including ages, in their curriculum vitae. It would be nice to see that sexist trap consigned to the bin once and for all.