After Italy temporarily banned ChatGPT in March over data protection concerns, the popular artificial intelligence (AI) chatbot could be reinstated in the country by the end of April – provided it can follow a list of rules set by regulators.
Italy became the first Western country to restrict use of the technology amid growing concern about the implications of its widespread use.
READ ALSO: Italy blocks artificial intelligence app ChatGPT over data privacy failings
The head of Italy's privacy watchdog said on Tuesday he was hopeful that OpenAI would adjust its chatbot so it could be back online in the country at the end of the month.
"We are ready to reopen ChatGPT on April 30th, if there is a willingness on the part of OpenAI to take useful steps," Data Protection Authority chief Pasquale Stanzione told the Corriere della Sera newspaper.
"It seems that on the company's side there is, we'll see," he said.
The Italian watchdog, known as Garante, last week outlined a set of requirements that US firm OpenAI, which makes ChatGPT, will have to satisfy by April 30th.
San Francisco-based OpenAI, which had responded by proposing changes to ease the concerns, said on Wednesday it welcomed the Italian regulators' move.
"We are happy that the Italian Garante is reconsidering their decision and we look forward to working with them to make ChatGPT available to our customers in Italy again soon," OpenAI said in a statement.
There have been growing concerns around the artificial intelligence boom, with other countries including France and Canada also investigating or looking closer at so-called generative AI technology like ChatGPT. The chatbots are "trained" using huge pools of data, including digital books and online articles, and are able to generate text that mimics human writing styles.
Universities and some education authorities have banned the chatbot over fears that students could use it to write essays or cheat in exams.
And hundreds of experts and industry figures signed an open letter in March calling for a pause in the development of powerful AI systems, arguing they posed "profound risks to society and humanity".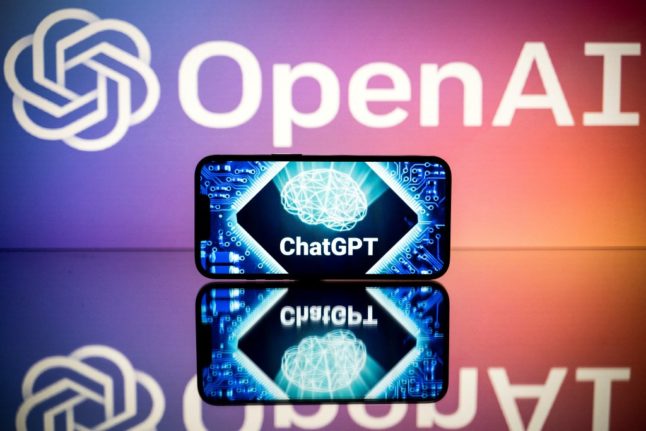 OpenAI's ChatGPT has been temporarily blocked in Italy (Photo by Lionel BONAVENTURE / AFP)
Italian regulators suspended the use of ChatGPT after saying the company had no legal basis to justify "the mass collection and storage of personal data for the purpose of 'training' the algorithms underlying the operation of the platform".
The watchdog said for ChatGPT to be reinstated OpenAI must post information on its website about how and why it processes the personal information of both users and non-users, as well as provide the option to correct or delete that data.
OpenAI will have to rely on consent or "legitimate interest" to use personal data to train ChatGPT's algorithms, the watchdog said.
OpenAI also will have to carry out a publicity campaign by May 15th through radio and TV, newspapers and the internet to inform people about how it uses their personal data for training algorithms, Italy's watchdog said.
The company will also be required to verify users' ages and set up a system to filter out under-13s and teens aged between 13-18 who don't have parental consent.
"Only in that case will the Italian SA (supervisory authority) lift its order that placed a temporary limitation on the processing of Italian users' data … so that ChatGPT will be available once again from Italy," the watchdog said.
The success of ChatGPT garnered OpenAI a multibillion-dollar deal with Microsoft, which uses the technology in its Bing search engine and other programs.
Other AI chat software remains available to use in Italy.