In a verdict late on Wednesday, the Court of Cassation in Rome overturned the sentences handed to Finnegan Elder, 23, and Gabriel Natale-Hjorth, 22, and granted both a new appeal.
The pair had been sentenced to life in prison in May 2021 for stabbing to death policeman Mario Cerciello Rega while they were teenagers in a drugs' bust gone wrong two years earlier in Rome.
READ ALSO: American students convicted of murdering Italian police officer
An appeals court in March 2022 reduced their sentences to 24 years for Elder, who wielded the knife, and 22 years for Natale-Hjorth, who helped hide the weapon after the attack. Prosecutors said his actions earlier in the
evening led to the murder.
The court will issue its reasons for the verdict in the coming weeks, and instruct an appeals court on the issues to examine in a new trial.
After the first trial last year, the two friends had begun serving the earlier life sentences, Italy's harshest punishment, in separate Rome prisons.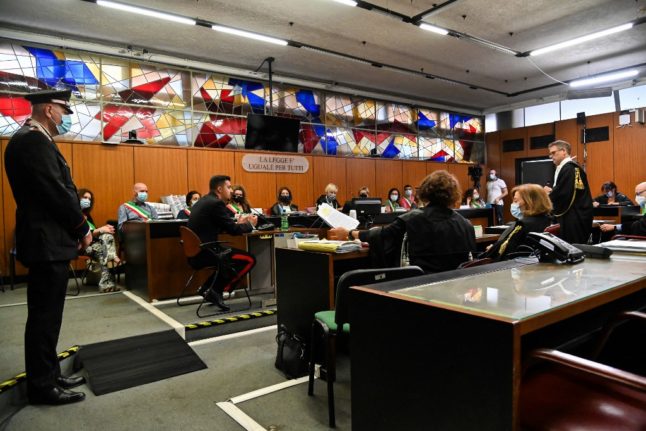 The courtroom in Rome during the initial trial of two young US nationals for the murder of an Italian police officer on July 20th, 2020. (Photo by ANDREAS SOLARO / POOL / AFP)
"We are satisfied with the annulment of the sentence," said Roberto Capra, the lawyer for Elder, whose new appeal is expected to consider aggravating circumstances.
"There will be a new trial on the heart of the matter – whether the carabinieri (police) identified themselves as members of law enforcement," he added, saying this raised the potential of a new, lower sentence being imposed.
READ ALSO: 'Worst night of my life': US student charged with murder of Italian policeman apologises in court
The encounter between the two teenagers and the police officer and his partner on a dark Rome street lasted just 30 seconds.
Elder has admitted to stabbing Cerciello with an 11-inch (28-centimetre) knife, but he and Natale-Hjorth testified they were jumped from behind by Cerciello and his partner Andrea Varriale, both in plain clothes.
They claim they did not know the men were police, believing them to be drug dealers following the Americans' botched attempt to buy drugs earlier in the evening.
But Varriale, the prosecution's main witness, testified that he and Cerciello approached the teens from the front and identified themselves as police.
Lawyers for the Americans had sharply criticised the life sentences, Italy's stiffest penalty.
They argue the lower courts have ignored inconsistencies in the testimony of Varriale – who has admitted to lying after the attack – that give credence to the defendants' version of events.
The trial was reportedly marred by mistranslations and accusations of "inconsistencies" as well as claims that Rome prosecutors had "hidden evidence"
The murder of Cerciello, who was newly married, scandalised Italy while also raising doubts about police conduct after Natale-Hjorth was blindfolded while in custody.
The officer who blindfolded him was handed a two-month suspended sentence last month.