The bridge's operator Öresundsbron set out the changes to toll prices in a press statement on Tuesday.
"We are making it cheaper for those who travel with us the most and the price will go up for those who travel less," Öresundsbron director of sales and marketing Berit Vestergaard said at a briefing on the price changes.
The toll price for a one-way crossing on the Öresund Bridge was raised to 645 Swedish kronor (440 Danish kroner) from the previous 610 kronor (415 kroner) on Tuesday, a 6 percent increase.
Discount offers for both private and business customers will provide bigger savings for frequent bridge users under the new price structure.
While the annual fee to register for one of the Öresund Bridge's range of discount offers goes up from 495 Swedish kronor (335 Danish kroner) to 499 kronor(349 kroner), the price per journey falls by 6-7 percent or 8-12 kroner per journey.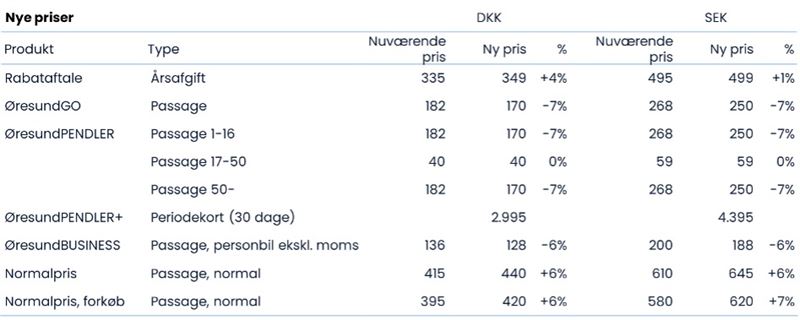 A breakdown of the Öresund Bridge price changes in full. Photo: Öresundsbron
Increased prices on single trips allow the cost of a crossing for a discount customer to be reduced, Vestergaard said.
"We want to offer our customers a cheaper price and we are doing it at a time when many other things are becoming more expensive," she said in the statement.
"It will simply be cheaper and easier to cross the Öresund with a discount offer. The price per journey will fall by around 7 percent," she said.
Tuesday's changes mean that motorists registered for discount offers will no longer need to carry an electronic tag to register at the toll. Instead, tolls will use number plate recognition. Cars must be registered on the Öresundsbron website.
Discount schemes for the bridge have been renamed under three categories: ÖresundGO, ÖresundPENDLER and ÖresundBUSINESS.