As many people plan to visit their favourite sites in Italy this year after a long absence, we're putting together our own quick guides to some of the country's most-loved attractions. If you or someone you know is planning a trip to the Vatican Museums, here's what to know before you go.
Booking
Advance booking isn't required to enter the Vatican Museums, but it will help you avoid long queues at the entrance (those with 'Skip the Line' tickets still have to queue, but for less time).
If you've left it too late to book tickets for your dates in Rome, you should still be able to get in by turning up on the day – you just need to plan to spend an hour or so in line.
READ ALSO: Nine tips for making the most of a Rome city break
It's safest to arrive early in the day to avoid disappointment; make sure to check you've found the right queue before committing.
Opening hours
The Vatican Museums are open 9am-6pm Monday-Saturday, with final admission at 4pm.
On Fridays and Saturdays from April 14th to October 28th, opening hours are extended to 10.30pm, with final admission at 8.30pm.
The museums are closed every Sunday apart from the last one of the month, when entry is free of charge; expect to contend with large crowds if you want to take advantage of this.
There are a few dates, including Christmas and New Years Eve, when the museums are always closed; you can find a complete list here.
Entry fees
Tickets cost €17 full price or €8 for children between the ages of 6 and 18, or students up to the age of 25. Children under the age of six are free.
A whopping €5 per person booking fee applies for all Skip the Line tickets, including discounted ones – so if you're a larger group you may decide you'd rather just wait in line.
Entry to St. Peter's Basilica is free, but be prepared to spend a long time queuing and go through an airport security-style bag check before you can enter.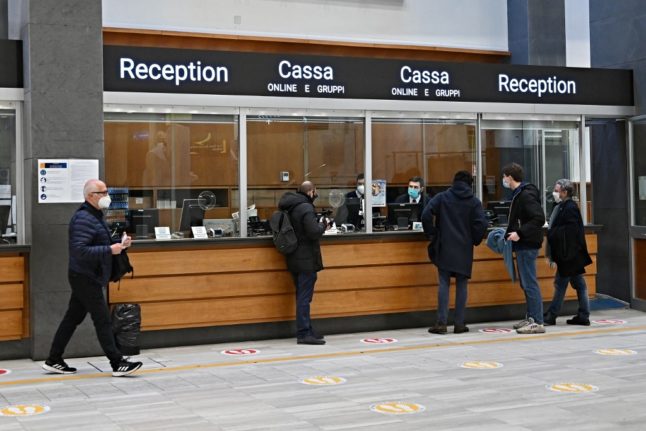 (Photo by Andreas SOLARO / AFP)
When to go
The museums tend to be busiest on weekends, and on Mondays when many of Rome's other museums and archeological sites are closed.
Most Wednesday mornings, there's also Papal Audience at the Vatican's Nervi Hall or in St. Peter's square, which draws large crowds to Vatican City.
That means Tuesdays and Thursdays are often recommended as the best times to visit to avoid hordes of people – but as a world-famous attraction, there's rarely a 'quiet' time to see the museums.
Dress code
As the Catholic state, Vatican City has its own, semi-strict dress code.
Shorts or short dresses or skirts above the knee are not permitted, and if your shoulders are exposed, bring a shawl or scarf to cover them. 
Hats aren't allowed, and neither are exposed tattoos or messages that could be considered offensive to "Catholic morality, the Catholic religion and common decency".
A free cloakroom service is provided for storing clothing and objects that aren't allowed into the museums.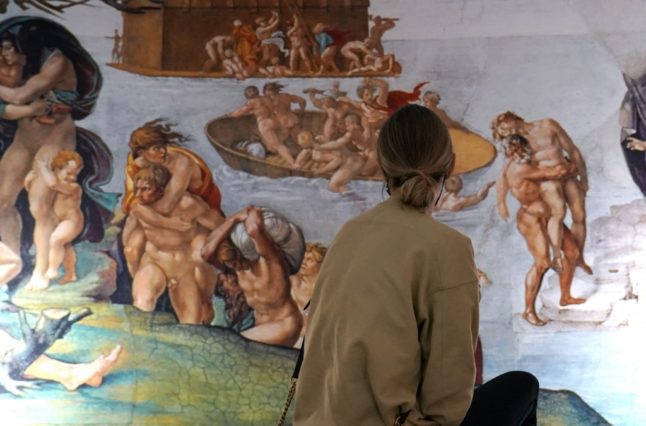 (Photo by TIMOTHY A. CLARY / AFP)
Getting there
Conveniently, there are a couple of A-line metro stops – Ottaviano and Cipro – right near St. Peter's Basilica, and a number of buses also pass by or near the museums.
Rome's centre is relatively small and walkable for a major European capital, and if you're near the centre, you may find it easiest to go on foot.
If you're on the River Tiber's walking and cycle path, head in the direction of Castel Sant'Angelo and climb the steps when you arrive; Vatican City is just a short distance away.
How much time to budget
While many visitors are most interested in the Sistine Chapel, your ticket includes all of the Vatican Museums, and you'll want to make sure you get your money's worth.
The Vatican Museums are vast and contain a wealth of cultural and artistic heritage, from classical and Renaissance statues and busts to tapestries designed by Raphael, Michelangelo's Pietà, a gallery of 500-year-old maps, and many more treasures.
You could easily spend the best part of a day wandering the museums, but if you're in a rush, you'll still  want to budget a good two-and-a-half to three hours.