Following the election in November last year, the proportion of female MPs in the Danish parliament increased to 76 or 43.4 percent. That is the closest to equal representation in the history of the parliament according to a Statistics Denmark press release on March 8th.
The 43.4 percent of female MPs is 14 percent higher than at the election in 1987, when 39-7 percent of elected lawmakers were women.
"In 2022 we got the highest proportion of women ever in parliament. We can also see the same trend in people running for election to parliament, where 38.4 percent of candidates were women, the highest proportion seen thus far," Statistics Denmark special consultant Annemette Lindhardt Olsen said.
Some 31 percent of candidates in 1987 were women, and the proportion varied between 27 percent and 33 percent until the 2015 election.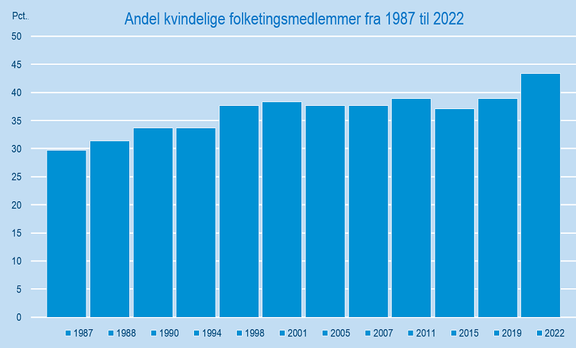 Local governments show evidence of a similar trend, with 35.9 percent female representatives at municipalities at the last local elections in 2021, a 4 percent increase compared to 31.8 percent in 2009.
Elected boards at Regions, the authorities which administer health services regionally, reached equality at the 2021 election with 50.2 percent women elected, compared to 35.1 percent in 2009.
Ministers
Women were first allowed to run for election in Denmark in 1915. Education Minister Nina Bang became the first female minister under Social Democrat Thorvald Stauning's government in 1924.
Apart from 1924, governments remained exclusively the domain of men until 1947, when just 4.5 percent of the cabinet were women. That proportion only increased to over 20 percent by the late 1980s, but sped up in the 1990s with 37 percent female ministers under PM Poul Nyrup Rasmussen in 1993.
The highest proportion of female ministers was 48 percent, back in 2009 in Lars Løkke Rasmussen's first spell as prime minister. The current government has 35 percent female ministers.
As for prime ministers: It took Denmark until 2011 to elect its first female prime minister, when Helle Thorning-Schmidt defeated Rasmussen. Current PM Mette Frederiksen, a Social Democrat like Thorning-Schmidt, is Denmark's second female government leader and has won two elections.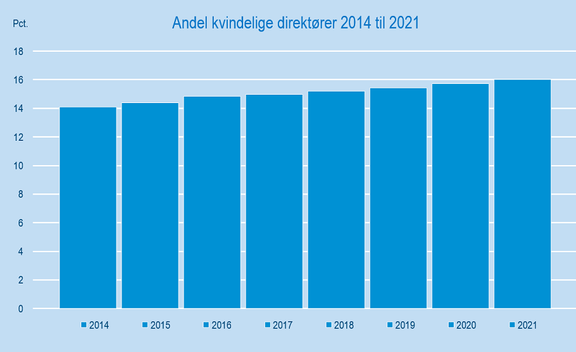 Company boards
Boardrooms at Danish companies continue to be relatively male-dominated. In 2021, some 81 percent of registered board members at Danish businesses were men. The percentage of men and women on Danish boards remained stable between 2014 and 2021.
"If we exclusively look at production companies, the proportion of women in boardrooms is highest at companies with over 250 employees – especially highly technological companies, where the proportion of women was 28 percent in 2021," Statistics Denmark special consultant Kalle Emil Holst Hansen said.
Small and medium sized businesses have the lowest equality between men and women in boardrooms, he also said.
The proportion of female directors has increased slightly since 2014 but remains at a modest 16 percent, according to the data.