La Bella Vita is our regular look at the real culture of Italy – from language to cuisine, manners to art. This new newsletter will be published weekly and you can receive it directly to your inbox, by going to newsletter preferences in 'My Account' or follow the instructions in the newsletter box below.
A cornerstone of Italian culture, the tabaccheria is used for much more than just buying cigarettes. In fact, these little shops are pretty central to everyday life and anyone who moves to or just spends time in Italy will need to become as familiar with them as they are with the local coffee bar.
From paying bills to purchasing bus tickets, here are just some of the services you should know about and a few tips for your first visit.
Why the tabaccheria is essential to life in Italy – even if you don't smoke
For Italian language learners: listening to podcasts is a great way to immerse yourself in a new language. Luckily there's a vast range of audio shows for people wanting to learn Italian, whether you're studying at an advanced level or learning from scratch. Here we've selected a few of our favourites, plus readers' suggestions:
Some of the best podcasts for learners of Italian
Italy is known worldwide for pizza and gelato, but Italian cuisine is incredibly diverse and visitors are often surprised by some of the local delicacies on offer. I know rustic Tuscan cuisine didn't exactly match my expectations when I first arrived in Italy. I quickly learned to love it – but my mother-in-law's homemade chocolate cake made with pig's blood (sanguinaccio is a delicacy in Puglia…) was a step too far!
So, from fried brains and tripe to suggestive desserts that you definitely wouldn't expect the local priest to approve of, here's a look at some more of the traditional foods loved by Italians – but not always by foreigners.
From fried brains to 'sexy' cakes: The Italian foods you might not expect in Italy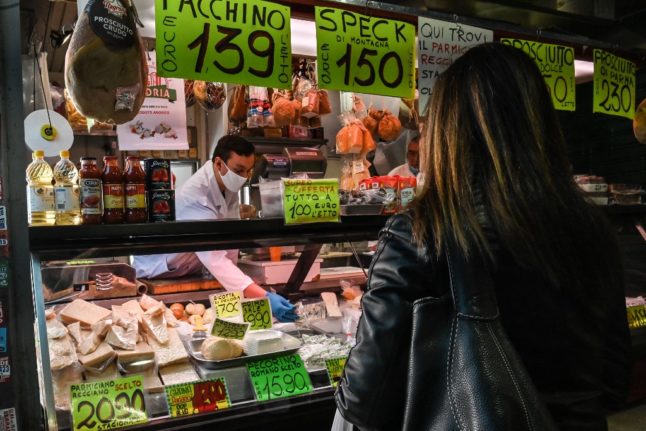 Visitors can find more than they bargained for at a traditional Italian food market. (Photo by Andreas SOLARO / AFP)
As regular visitors know, there's much more to Italy than just the glamour of Rome, Venice or Florence, but some destinations suffer – we think unfairly – from negative reputations. From Caserta to Reggio Calabria and beyond, here are some of the overlooked Italian towns that are home to incredible sights that everyone should see at least once.
Nine overlooked Italian towns you should visit
If you're planning a visit to Italy (or to another part of Europe from Italy) this year but want to cut down your carbon footprint, train travel is a great option and there are more routes than ever connecting Italy's major cities to other parts of the continent.
Here are some of the main direct international train services you can use for travel between Italy and other European countries this year.
The train routes connecting Italy to the rest of Europe in 2023
Remember if you'd like to have this weekly newsletter sent straight to your inbox you can sign up for it via Newsletter preferences in "My Account".
Is there an aspect of the Italian way of life you'd like to see us write more about on The Local? Please email me at [email protected]