The brinksmanship has won plaudits from some who argue that by holding out, the German leader managed to get the United States to reverse its stance and send Abrams tanks — bringing about a bigger win for Ukraine.
But other analysts warn the weeks of delay may have left a deeper mark on Scholz's international reputation, while also hurting Kyiv's chances against Russian troops on the battlefield.
"The SPD chancellor has achieved one of his biggest aims: delivering battle tanks only in step with the Americans," wrote Die Zeit weekly.
READ ALSO: Fact check: How much help has Germany given Ukraine?
Scholz's "unusual and risky move… worked", it added.
Conservative broadsheet Die Welt called it a "coup" for the chancellor. "Scholz has managed to get the US to change course," it said.
'Won't be pushed'
In recent weeks, as allies and Kyiv alike harangued him for tanks, Scholz stressed the need for international coordination and ruled out going it alone on the heavy military equipment.
With an eye on public opinion, Scholz has been careful not to appear to be hawkishly leading the charge when it comes to military supplies to Ukraine.
Fielding questions at the Bundestag following Wednesday's announcement, Scholz pointedly avoided playing up the powerful Leopards' capabilities and how they could affect the outcome in Ukraine.
READ ALSO: What difference could Germany's Leopard 2 tanks make in Ukraine?
Rather, he repeatedly underlined that it was and is "right that we did not let ourselves be pushed into this but that we rely on and also continue on
close cooperation".
It was perhaps not a coincidence that Scholz's announcement came after public opinion shifted slightl in favour of sending tanks, with 46 percent for and 41 percent against on January 19.
Directly addressing fears of Germans, who have favoured treading lightly around conflict zones since World War II, Scholz pointedly said he would ensure that any support for Ukraine would be provided "without the risks for our country growing in the wrong direction".
Asked later on ZDF public television whether his hesitation had led to a "loss of trust" among allies, Scholz rejected the criticism.
"Everyone knows we are making a big contribution, also compared to other countries, in terms of support for Ukraine — not only financially and with humanitarian aid but also with weapons."
But some analysts said his concern for domestic politics may have cost Ukraine on the frontlines.
'Embarrassing'
In the meantime, "several months" had been lost in the defence of Ukraine, while Scholz was "more concerned with domestic politics" and an issue he did not see as a "big vote winner", Chatham House analyst John Lough told AFP.
Fears that moving too rashly would lead to an escalation in the war were exaggerated, too. Even without tank deliveries, "the Russians have escalated anyway", for example by targeting critical infrastructure in Ukraine, Lough said.
Amid the ruckus, particularly with neighbouring Poland accusing Scholz of dithering, analysts point to the damage done to Germany's reputation.
Bild daily piled on the pressure at home, accusing Scholz of cowardice. But a day later, a high-profile defence ministers' meeting of Ukraine allies last Friday still failed to break the deadlock on tanks.
The delay was "embarrassing for the German government", said Lough.
READ ALSO: Germany gives greenlight for Leopard tank deliveries to Ukraine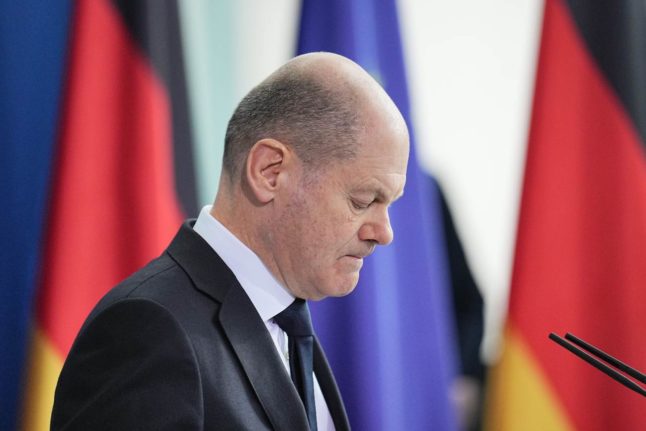 German Chancellor Olaf Scholz (SPD) comments on the Russian attack on Ukraine during a press conference at the Chancellery on February 24th, 2022. Photo: picture alliance/dpa | Michael Kappeler
Sudha David-Wilp, director of the German Marshall Fund's Berlin office, said moving in lock-step with the United States gave Scholz the "political cover he needed" to say "yes" to German tank deliveries.
But his short-term win was not "necessarily good for Germany because it has lost a lot of trust" with key partners, David-Wilp said.
The way the tank drama played out "clearly shows that the US needs to play a leadership role in Europe" and its security, while German leadership remained "elusive", she said.
Yet, for all the apparent damage to Scholz, there might be a winner.
The unexpected US tank commitment means that officials in Ukraine have "all kinds of different kit now", David-Wilp added.
By Sebastien Ash