How does this work?
We're using ChatGPT, an open-source AI model designed for dialogue. Essentially, you type in a question and it generates a response. After testing its article-writing skills (which in some cases were pretty good, in others… not so much), we decided to test how good it was at telling jokes.
Spoiler alert: they were awful.
First off, I asked the AI to "tell us a joke about Stockholm".

Screenshot: The Local
Did you get it? Because I didn't. I gave it another chance.

Screenshot: The Local
As I was quickly realising that the jokes were getting a bit meatball-heavy, I went for a different tactic, asking it to "tell us a joke about the northern lights".
Okay, so they do seem to be getting at least a bit better. Maybe the AI is learning how to tell better jokes after all. Let's ask it to tell us a joke about the King of Sweden.

Yeah, scrap that, it's definitely not getting better. This one even came with its own disclaimer. Also, as an aside, the King of Sweden is famous for not wearing a crown: he never had a coronation.
Next up: "Tell us a joke about a cinnamon bun".

Screenshot: The Local
Is it just me or is this one actually funny? Have I been writing this article for too long? Is this a cry for help? Maybe.
Anyway, let's ask it for a joke about herring.

Screenshot: The Local
Again, this one genuinely made me laugh. Next up, midsummer. This time, I asked it to "tell us a joke about a Swedish Midsummer celebration".

Screenshot: The Local
Has anyone told the AI that jokes usually become less funny when you explain them?
By this point, I was getting a bit tired of the traditional joke format and decided to try and get it to tell us a joke about Swedish politics. It refused, saying that it was not "appropriate to create jokes about political situations in general as it might be considered offensive and disrespectful for some people".
So I asked it to write a standup comedy routine about Swedish politics instead. Here's a section of it (the rest of it involved a sketch about the Swedish Prime Minister being caught eating a herring sandwich on public transport and compliments on him making Sweden a "renewable energy powerhouse" with "some of the most humane prisons in the world").

Screenshot: The Local
The AI is clearly not a fan of Swedish politics, or the Swedish prime minister (it may be important to note here that this AI was programmed in 2021, when Stefan Löfven was still Sweden's prime minister, so this is more of a slight on him than current PM Ulf Kristersson).
I then tried to get it to tell me a joke about visiting Ikea, but by this point I got an error message stating I'd made too many requests, so I'll end with this: a nice little haiku I asked it to write about Stockholm.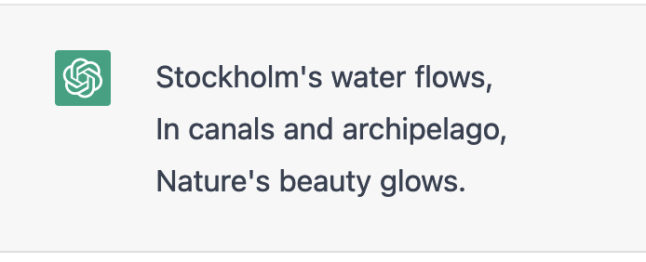 Screenshot: The Local