Whether you're visiting family or friends for the festive season, living out your Nordic winter wonderland dreams, or already living in Sweden, Stockholm makes an appealing choice as a destination with plenty to enjoy, even during the coldest months. 
Together with Arlanda express, come with us as we experience the darker months done right in this Scandinavian capital, as told by locals. 

Marta Vargas, art director
Marta moved to Stockholm from Barcelona almost 10 years ago. She lives in the quaint neighbourhood of Aspudden together with fiancé Graeme, daughter Moa and dog Summer.
"I absolutely love winter in Sweden so I have many good memories during this season," she says. "They all involve lots of snow and walking through the city: going to Djurgården after a snowstorm and enjoying the vastness and silence; climbing up to Monteliusvägen to discover a breathtaking white view of the city; or having hot chocolate after a Lucia concert in the old town. Stockholm is truly magical in the winter."
Though it's not really an insider secret, Stockholm's old town (Gamla Stan) is a special must-see. This is particularly true during winter, when a sugar-dusting of snow covers the ochre-hued, lantern-lit laneways. 
With Arlanda express it takes you only 18 minutes from the airport to Stockholm Central Station, and from there you can head straight to Gamla Stan to get into the Scandi winter spirit. From the station it's just a 10–15 minute walk, and you'll take in stunning city views along the way.
Keen to get off the tourist trail? Marta suggests visiting her neighbourhood of Aspudden, just south of the city, and taking a walk to Vinterviken. 
"From the cliffs you can see an amazing view of the lake Mälaren, and you can finish the visit with fika by the fire at Vinterviken Trädgårdskafé and ice skating on the lake Trekanten."
Don't miss these three Stockholm winter activities says Marta:
"Take the ferry and go for a walk around Djurgården, and have fika at Rosendals Trädgård. A place to not miss in any season, but especially in the winter, it doesn't get cosier than that! 
"Have breakfast at Stora Bageriet, visit the National Museum and finish off with a walk around Skeppsholmen.
"Walk around the old town and the Christmas Market in Stortorget, and have hot chocolate at some small café."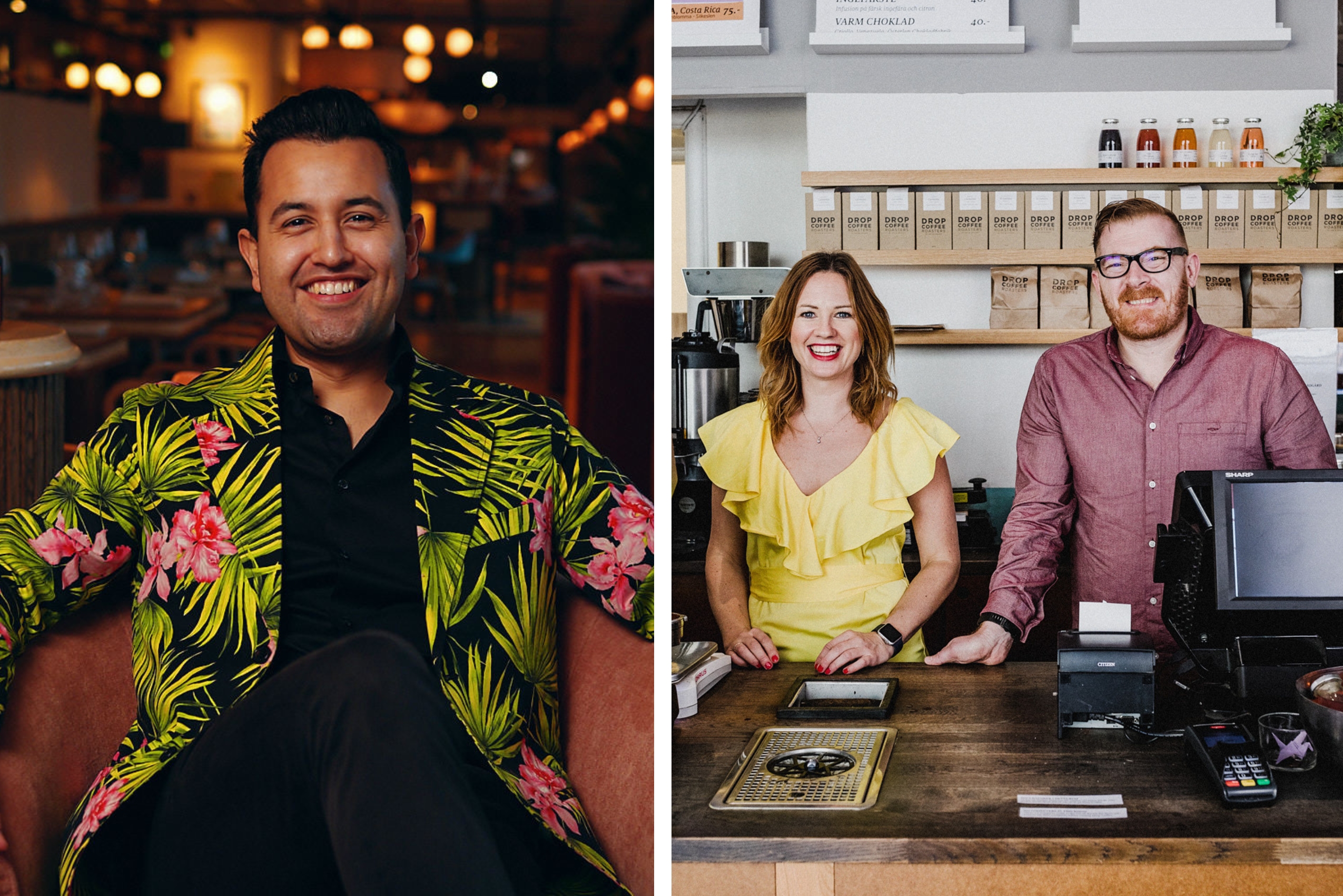 Stephen Leighton, part owner, Drop Coffee
Originally from Staffordshire in the UK, Stephen has been part-owner of coffee shop and roastery Drop Coffee in Stockholm's Södermalm for the past six years, together with his partner, Joanna. 
"There are so many hidden gems around Stockholm and some great gems not so hidden!" 
With that in mind, Stephen shares his three favourite foodie places in Stockholm:
"When I first moved here, our roastery was in Västberga. One lunchtime wandering around the industrial estate I found this place called Brisket and Friends – it looked like a truck stop. I was amazed at the array of BBQ meats and amazing sides in a simple and unpretentious surroundings. Great value, great food and great people.
"I love craft beers, and I love Omnipollos Hat near Slussen, I thought it couldn't get any better. But this year saw the opening of Omnipollos Kyrka in Sundbyberg and my life got instantly better. Good beer, good food and a great location with some of the most knowledgeable staff on beer. 
"Ninja Bar has the same owners as Stockholm Brewing Co. A must visit, with a fantastic selection of natural wines and great small dishes in an intimate but lovely space in the heart of Södermalm."
You can get to all of Stephen's tasty picks via Stockholm's easy-to-navigate transport system from T-Centralen. And getting to T-Centralen from the airport when you start your trip is comfortable and fast on Arlanda express (and if you travel with kids, they ride for free). It's the obvious choice for locals in the know. 
"I use Arlanda express fairly regularly," says Stephen. "It's super easy and quick to get into T Central – and much nicer than sitting in the back of a cab for an hour or getting stuck in the E4 motorway hell during rush hour."
Stephen admits his first taste of a Nordic winter wasn't as comfortable though. "My first memory of minus 20 was arriving at Arlanda in a light coat and my girlfriend laughing herself to the ground at how badly prepared I was for a Nordic winter… I now have a very good summer and winter wardrobe."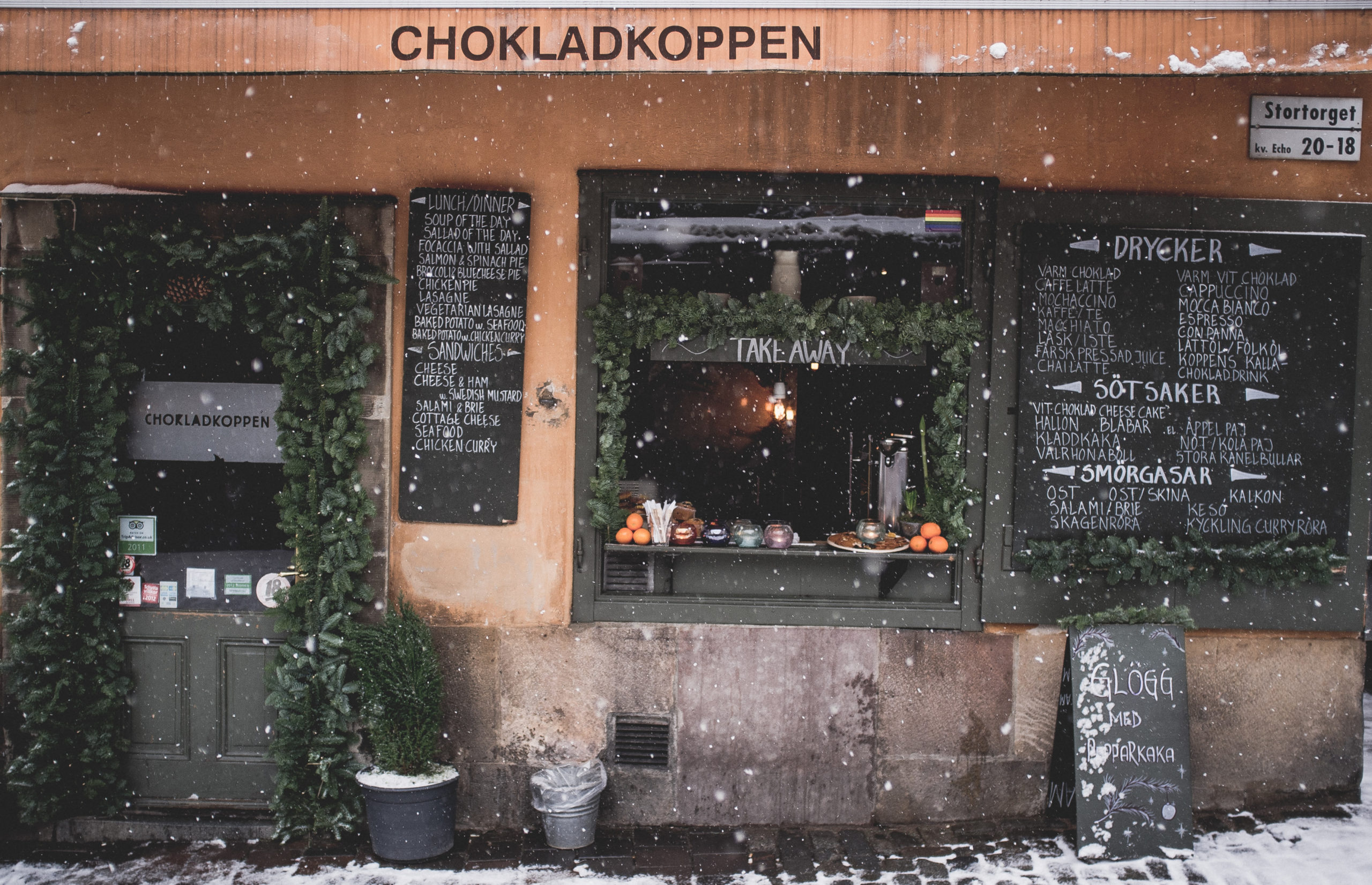 Sebastian Martinez, hotel manager, Ellery Beach House
After 12 years working in hotels in London and Copenhagen, Sebastian returned home to Stockholm during the pandemic to work at Ellery Beach House, a hotel and spa overlooking the Stockholm archipelago.
"Everything gets a little cosier in winter," he says. "You hang out in cafes and bars with candles and a warm drink."
He suggests you head into enchanting Gamla Stan and find a seat at Pharmarium for "amazing cocktails".
Here are Sebastian's Stockholm winter highlights:
"A walk in the old town is super cosy during winter. You feel like you are travelling back in time. The small shops, cafés and Christmas market on Stortorget is an experience you will remember. When it is time for food, I recommend Bistro Marie. They serve classic French, Italian, American and Swedish dishes with a twist.
"During the colder months I also like to visit our amazing museums. Vasamuséet is one of my favourites – so much history right in front of you in a majestic way. I get amazed every time I go. Naturhistoriska Riksmuséet with Cosmo Nova is another favourite. 
"I must mention my workplace, Ellery Beach House. After checking in, you change into a bathrobe and slippers and head off to the Beach Club, or hang out in our fire room. We have four heated pools, or why not try a refreshing dip in the sea? There are two saunas to warm you up afterwards."
Our best Stockholm winter tip? Prepare yourself for a cosy and comfortable journey and book a ticket on Arlanda express.
Much better than waiting in a the blustery airport taxi queue – discover the 18-minute train journey that takes you right to the heart of Stockholm!