Paywall free
TELL US: What are the most Danish things in existence?
Which items truly epitomise Denmark? We'd love to get your input.
Published: 25 August 2022 12:49 CEST
Updated: 27 August 2022 05:58 CEST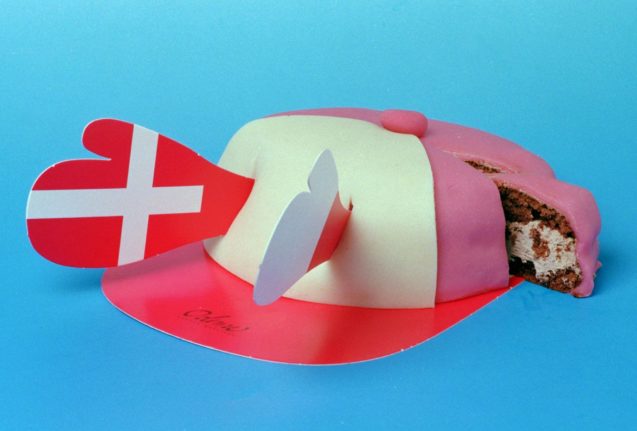 A cake and a "klaphat": about as Danish as it gets? File photo: Eva Mette Simony Andersen/Ritzau Scanpix
For members
IN NUMBERS: How close is Denmark to becoming cash free?
Although app payments are commonplace in Denmark and almost all businesses accept debit cards, one in five people in the country still say they would find it difficult to be without cash.
Published: 1 September 2023 16:05 CEST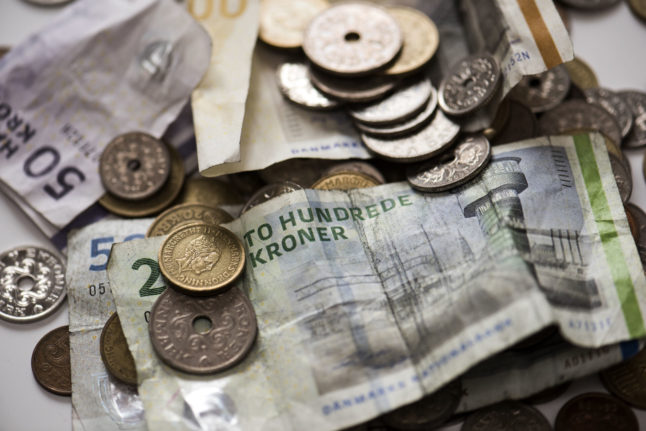 Some 20 percent of the Danish public say they would find it difficult to may everyday payments if cash was no longer in use, national agency Statistics Denmark found in a recent survey.
It should be noted that there are no immediate political plans to make Denmark cashless. But given the country's position as one of the most digitalised societies in the EU, it is notable that such a high number still uses cash on such a regular basis.
Some 20 percent of people between the ages of 15 and 89 said they agreed with the statement "I would find it difficult to make payments if cash was abolished as a payment method".
The figure comes from the agency's annual publication on IT habits in the general Danish population.
"One in five say they would find it hard to get by without cash, our study shows. It might not be surprising that this is particularly among elderly people," Statistics Denmark senior consultant Agnes Tassy said.
"Many people in the older age group also belong to the category we have chosen to call 'digitally challenged'. In that group, 40 percent would find it hard to be without cash," she said.
READ ALSO: EXPLAINED: Is it better for tourists to use cash or card in Denmark?
The agency defines "digitally challenged" as people who say they cannot navigate the internet or install an app.
Among the remainder of the population, most people say they could manage without cash although 17 percent still said they would find it to be a problem.
As part of the study, the data agency also asked members of the public which payment methods they had used at least once during the last three months.
Here, 53 percent said they had used all three primary types: cash, payment app and payment card.
30 percent said they used the latter two types but not cash, while only 7 percent said they did not use a mobile app but did use cash and card. A similarly low number, 7 percent, said they only used a card and neither an app nor cash. Just 2 percent only use cash.
In the study, six out of ten said they had used cash at some point around the beginning of 2022, the period the questions in the survey relate to.
But even though one in five say they'd find it hard not to use cash at all, only 2 percent – equivalent to 90,000 people – use cash as their sole method of payment.
A very high proportion – 97 percent – said they used payment cards at the beginning of 2022. Around 84 percent used a mobile app to pay for an item or service.
READ ALSO: Dankort: What is Denmark's payment card and how is it different from other card types?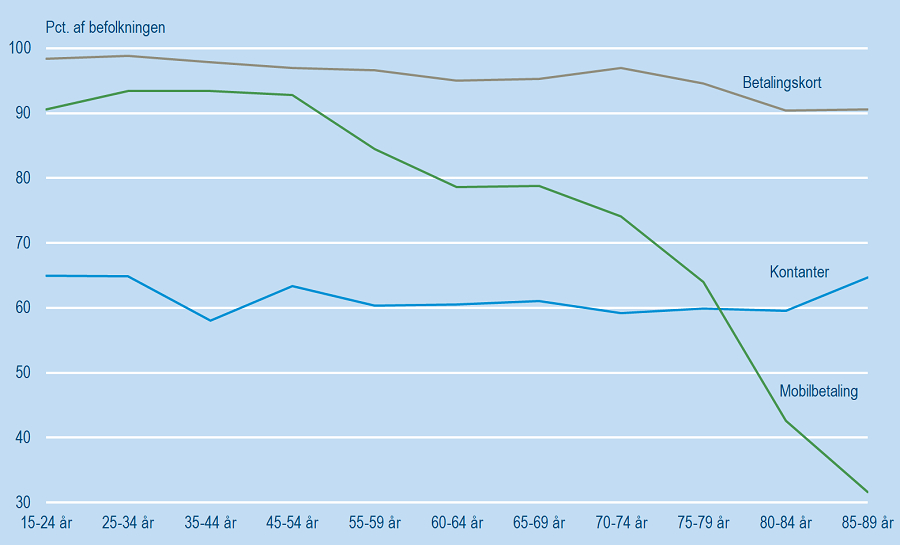 Graphic: Statistics Denmark
Breaking those numbers down by age, as in the graphic above, the percent of card users remains high across age groups (grey line), as does the middling amount of people who use cash (blue line).
Mobile apps (green line) have a very high usage in younger age groups, before a drop of for people in their fifties and sixties and a nosedive in usage for the over-80s.
"Across all age groups, the little plastic card is payment form most people rely on. Between 73 percent and 85 percent used a card the most often in 2022. For the entire population, the case is that 8 out of 10 most often pay by card, while 14 percent most often use an app," Tassy said.
The use of cash rises with age, with one in five over 80 using it most often but only 3 percent of people aged between 15 and 34.