Tuscany was among the worst-hit areas, with two people reported dead and at least a hundred evacuated on Thursday.
Liguria's coastline meanwhile was "heavily hit", local mayors said, with homes, beach clubs and other businesses badly damaged and a major railway line temporarily closed.
READ ALSO: Two dead as northern Italy battered by severe storms
Residents of Venice were cleaning up on Friday after strong winds and heavy rain damaged homes and businesses, and even the iconic St Mark's belltower.
Tourists were evacuated and parts of central Venice cordoned off late on Thursday as strong winds upended cafe tables and swept away umbrellas in St Mark's Square, and the city's famous newspaper kiosks were knocked over or damaged.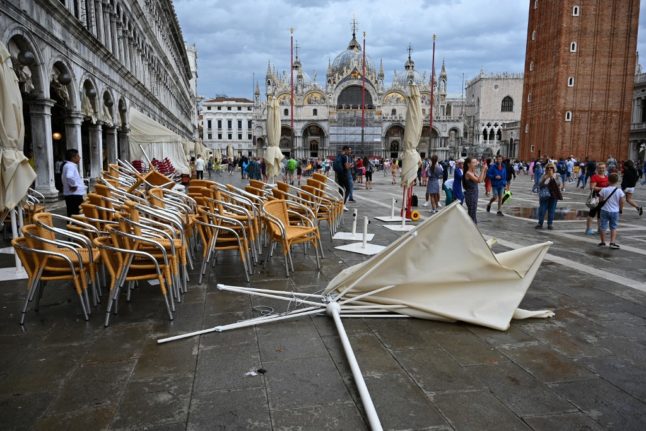 St. Mark's Square in Venice. Photo by Andrea PATTARO / AFP
Two people were reported injured, one at St Mark's and the other at the Lido, where beach clubs also suffered extensive damage.
Authorities in Rome were bracing to deal with further storm damage across the country on Friday, warning people to be cautious as the wave of bad weather spread across the country,
The extreme weather was caused by masses of low-pressure air moving south, Italy's Department for Civil Protection said.
In an update published late on Thursday, the department said "the development of new intense thunderstorms" in the north and centre of the country "remained possible" throughout the day on Friday.
As a result, authorities issued an amber alert for the regions of Lombardy and Veneto for Friday, August 19th, whereas a lower-level yellow storm alert was in place for the rest of the north and centre of Italy.
📅 Venerdi #19agosto
🟠🔔 #allertaARANCIONE in Lombardia e Veneto
🔔🟡 #allertaGIALLA in 9 Regioni
Consulta il bollettino per conoscere il livello e le zone di allerta meteo-idro sul tuo territorio 👉 https://t.co/mE6sFL6gsY pic.twitter.com/foj59UI25Q

— Dipartimento Protezione Civile (@DPCgov) August 18, 2022
"At the same time, the tail of the perturbation will lead to an unstable transit, with less widespread but intense phenomena," the civil protection department said.
Storms may also affect parts of the centre and south, it said, particularly "Umbria, Marche, Lazio, Abruzzo and Sardinia, where scattered thunderstorms may develop, with showers of rain or hail, electrical activity and gusts of wind".
Experts say climate change is boosting the intensity and frequency of extreme weather events, such as heatwaves, droughts and wildfires.
Italian environmental group Legambiente said on Friday the number of such extreme weather events has surged in Italy, with 132 in the last six months alone – the highest average figure in the last decade.
The group said "Italy is ever more subject to extreme climate events" because of global heating caused by human activity.