Italy's gender pay gap is under five percent; the fourth-lowest in the EU after Slovenia, Romania, and Luxembourg, according to Eurostat. However, while this sounds like good news, the low gender pay gap is closely connected to Italy's high female unemployment rate and the fact that wages in Italy are below the EU average.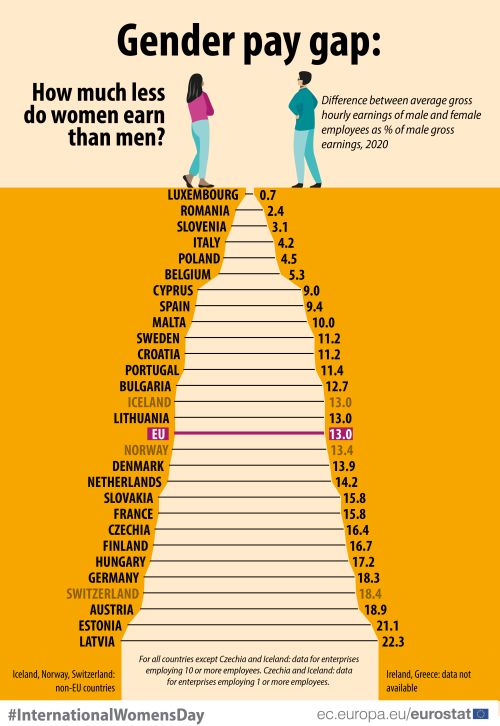 Fewer than half of working-age Italian women are employed. "The female employment rate is very very low, under 50 percent," Italian statistics bureau Istat director Linda Laura Sabbadini stated when presenting the latest employment data in September 2021. "In Germany, to give an idea, the number stands at 75 percent. And when it comes to the employment of young women aged 25 to 34, we are in the last place in Europe".
Women in Italy earn 16,000 euros a year on average. Of those who are employed, the average take-home pay for women was €16,285 compared to €23,859 for men. This means women earned almost a third less than men, though the number of paid working days recorded was only slightly lower for women. This wage inequality is linked to the prevalence of women in part-time jobs: 73.4 percent of part-time workers are women, according to Istat data from 2019.
Around 62 percent of Italian women's work each day is unpaid, according to the World Economic Forum's latest report, compared to 30 percent for Italian men. Women in Italy work longer than men on average – 512 minutes per day compared to 453 minutes – yet are more likely to be unemployed or work part-time.
READ ALSO: 'Design a fairer country': How post-Covid reforms could help close Italy's gender gap
Women retire later and on lower pensions. Lower incomes translate to lower pensions. In the first half of 2021, monthly pensions paid to men in Italy were €498 higher at €1,429, compared to €931 for women, according to data from Italian social security office INPS. Almost twice as many men were able to retire early: 79,935 with an average pension of €2,104. For women, the number was 44,204 getting an average of €1,609.
43 percent of Italy's government is female. The cabinet of Prime Minister Mario Draghi is made up of eight women and 12 men, This sounds like an improvement on many previous governments, but most of the female ministers are without portfolio. The number of female prime ministers or presidents in Italy, meanwhile, is still a big fat zero.
READ ALSO: Why are there so few women in Italy's most powerful jobs?
More than half of all Italians getting a degree are women. Nearly 59 percent of bachelor's graduates are women, according to the OECD, while women make up just over 52 percent of PhD grads, according to national statistics office Istat.
Almost half of Italy's adult women have experienced sexual harassment, says Istat. An estimated 8.2 million Italian women aged between 14 and 65 – close to 44 percent – have experienced sexual harassment in their lifetime, perpetrated in 97 percent of cases by men. An estimated 1.4 million women, or just under nine percent of the age group, reported experiencing physical harassment or sexual blackmail at work. 
In 2017, 119 women in Italy were murdered, according to police figures. This is up from 117 in 2020 and 109 in 2019. In 59 percent of cases, the killer was a former or current partner, and 81 percent of murders took place at home or in a family setting.
Reports of stalking have doubled since 2019. In 2021, 15,720 women called 1522, the freephone number for reporting incidents of sexual violence and stalking. The number of reports has almost doubled since 2019 (8,427). Some 3.5 million women in Italy have been victims of stalking at least once between the ages of 16 and 70, equivalent to 16 percent. According to Istat, 2.2 million of these women were stalked by an ex. 
Women in Italy have an average life expectancy of 84.4 years, Istat says. Men are expected to live to 79.7, after the number dropped in 2020.