First coined by the French philosopher and sociologist Pierre Bourdieu in 1977, the term refers to the understanding of shared societal and cultural knowledge that allows a person to navigate and rise within a society.
You might think of 'cultural capital' as the ability to use stories and symbols to communicate effectively; to convince, persuade and inspire. In an increasingly frenetic world, this skill is arguably more important than ever – as is well-recognised at The American School In Switzerland (TASIS).
A school that promotes cultural conversations
Since its foundation in 1956, the independent boarding and day school in the canton of Ticino has made encouraging the development of cultural capital in its students part of its mission. Mark Aeschliman, an Art History and Architecture teacher who has worked at the school for 42 years, sees the approach as a central part of TASIS's ethos.
"The school has always been a haven, a kind of neutral ground where students' cultural backgrounds possess a kind of equivalence," he says. "Cultures, histories, and points of view are showcased on a daily basis."
As well as being a place of curriculum-based classroom learning, this means the school also provides a great platform for discussion of "current events and cultural mores," Aeschliman says.
Alex Secilmis, a recent graduate, agrees with Aeschliman as he reflects on the varied places around the world that the school has taken him. "I went to Seville to learn Spanish and their traditional dances, to Florence to better understand Dante's Inferno, and to Nepal to witness a radically different way of life," he says.
A school where beauty matters
The emphasis on improving the mind is also helped by the school's physical environment. Perched on a hillside in Montagnola, it boasts impressive views of snow-capped mountains and Lake Lugano, as well as striking buildings.
As Aeschliman states: "The school's setting in the centre of Europe, in neutral, safe Switzerland, most certainly has an impact on developing minds. One of the pillars of the school is 'beauty', and the beauty of the world is on full display daily among the pre-Alps above Lake Lugano. The school's founders also made a commitment to commission only works of classical architecture for the school's campus."
Offering both the International Baccalaureate and the Advanced Placement program, the school also subscribes to the ideas of E.D. Hirsch, the American curriculum expert. Hirsch advocates for a greater focus on cultural literacy, not only examining the meanings behind the stories and symbols we share, but also their changing significance over time.
This cannot be done without engaging with the wider world on a regular basis. Aeschliman says this is "a school where the mantra is 'Europe is our classroom'."
Even in the physical classroom, students are able to boost their cultural capital through the Core Knowledge curriculum that stresses increased lesson time in social studies and history as a vital component. This guided program begins in Pre-Kindergarten and continues throughout Elementary School.
Download TASIS's brochures for Elementary, Middle and High School or request further information –  or to arrange a visit to the campus or a video meeting click here
A school where you can dream 'big'
This is not just a school that excels academically. As Secilmis tells us, teachers at the school support students in pursuing their deepest personal interests – sometimes going to surprising lengths.
"I worked in a program called 'TASIS Student Films'," he says. "The teachers were open enough to let me follow my interests and try out a broad range of styles. It was a hands-on experience with the help of a great team, and in my last year I went ahead and made a feature-length comedy with a cast of 40 students and teachers.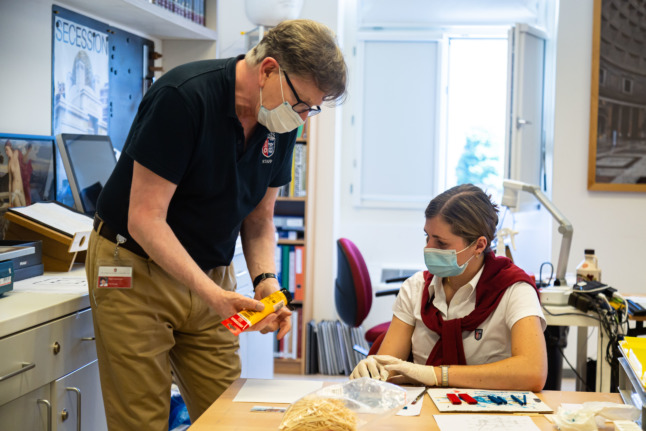 Creating together: Mark Aeschliman and a student. Photo: TASIS
"The initiative was my own, but TASIS gave me a great platform. The curriculum is eclectic so that you can really challenge yourself academically, whether that's aiming for a certain university or just figuring out what your passions are." Secilmis is now studying fillm theory at King's College London.
Any student graduating from TASIS can expect to gain admission to a quality university in the US or Europe – including, in some cases, the world's most selective institutions. Top performers include students interested in business careers, as well as cultural pursuits.
The school's 2020 valedictorian, Giulia Meregalli, is studying Finance at the University of Cambridge and has already begun a career in management consultancy and strategy. 
"I'll miss the ability to relate and build connections with people from all over the world – and being part of such an international student body," she says. "I'll also miss the at-home feeling that I knew at TASIS, feeling as stable, at ease, and comfortable as I would at home."
A school where you experience the world
TASIS was the first American boarding school in Europe. Today the student body comprises 60 nationalities and 42 spoken languages. Students from all around the world get to take part in all kinds of international festivals throughout the year: major American festivals such as Thanksgiving, local festivals, and those celebrated by the various nationalities of the students.
Students are constantly reminded that they are part of a greater whole, of a world that can be understood and celebrated. In a world as unpredictable as we've experienced this year, the ability to relate to and understand people from all backgrounds will help the new generation flourish and thrive. In this respect, it seems that TASIS succeeds admirably by helping students develop 'cultural capital' – and much more besides.
Interested in learning more about TASIS? To arrange a visit to the campus or a video meeting with the admissions team, click here. For more information about applying to TASIS, click here. And to learn about the TASIS Summer Programs, click here.