A 24-year-old passenger died in the crash, a spokesperson for Munich police said late on Monday. 
At least 18 people were injured – five of them seriously. They were rushed to hospital. 
The two train drivers are among those who are seriously injured, reported Bavarian broadcaster BR24. Around 25 passengers from the two S-Bahn trains were treated as outpatients. A total of 95 people were in the carriages at the time of the collision. 
The cause of the crash, which happened at around 4.40pm, is not yet clear.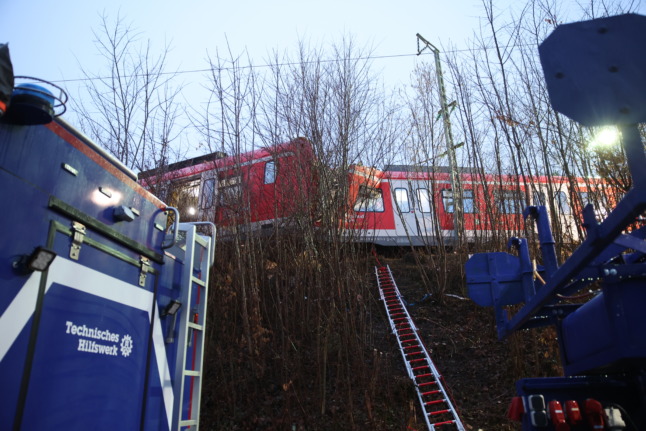 The extent of the damage can be seen following the crash. Photo: picture alliance/dpa | Matthias Balk
Images in local media showed passengers standing next to the track after the collision, with partially derailed carriages visible.
"One person died and there are injured people – in the double-digit range," a Munich police spokesman told AFP
 Another 14 people were injured, a police spokeswoman told AFP.
The crash occurred near the S-Bahn urban rail station of Ebenhausen-Schäftlarn, southwest of Munich, with the two commuter trains apparently slamming into each other head-on.
 More than 200 rescue workers and police were at the scene by the early evening, the police spokesman said.
One injured person was initially trapped inside a carriage but was later freed, he added.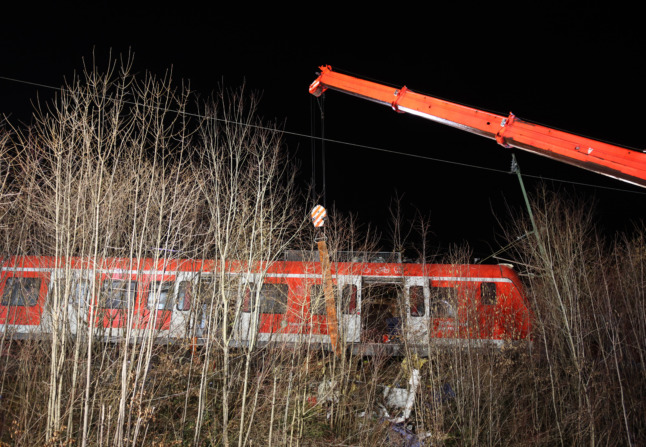 A crane at the scene of the accident. Photo: picture alliance/dpa | Matthias Balk
Germany's top-selling Bild newspaper had earlier reported that a train driver was trapped in the mangled wreckage.
The stretch of track in Germany's Bavaria region was closed off after the incident, with rail replacement bus services running.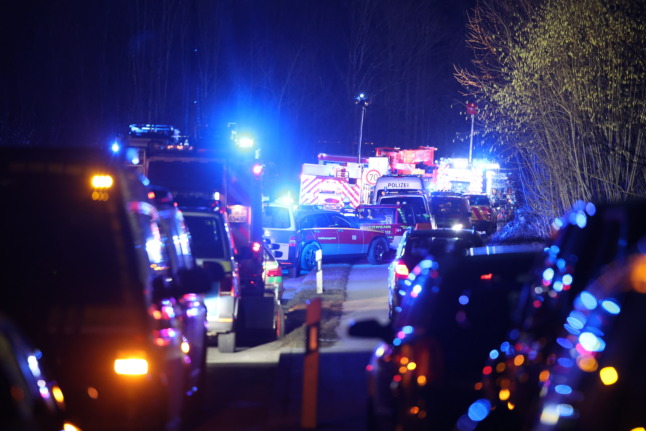 Rescue teams at the scene on Monday. Photo: picture alliance/dpa | Matthias Balk
Passengers on board the trains told the Merkur newspaper that they felt a loud bang and were thrown forward.
German rail operator Deutsche Bahn said the relevant authorities had opened an investigation.
"No assessment can be made about the cause of the accident at this moment," it said in a statement.
"Our deepest sympathies go out to the relatives of the victim of the accident. We wish the injured a speedy and full recovery," added Heiko Büttner, head of S-Bahn Munich.
Bavarian premier Markus Söder expressed dismay at the "terrible news" and thanked the rescue workers for their "quick action".
Das sind schreckliche Nachrichten. Wir trauern mit den Angehörigen und wünschen allen Verletzten des S-Bahn-Unglücks schnelle Genesung. Danke an all die Rettungskräfte für ihren schnellen Einsatz. #schäftlarn https://t.co/sjDuQhektB

— Markus Söder (@Markus_Soeder) February 14, 2022
According to local radio, two S-Bahn trains nearly collided in the same area last August, but both drivers were able to brake in time.