For members
Politics in Spain: Seven predictions for 2022
A return to the fore for the Catalan independence push? Far-right Vox to continue growing in popularity? Perhaps even early general elections? Seville-based political journalist Conor Faulkner talks us through some of the potential outcomes to expect from Spanish politics in 2022.
Published: 28 December 2021 09:39 CET
Updated: 3 January 2022 11:33 CET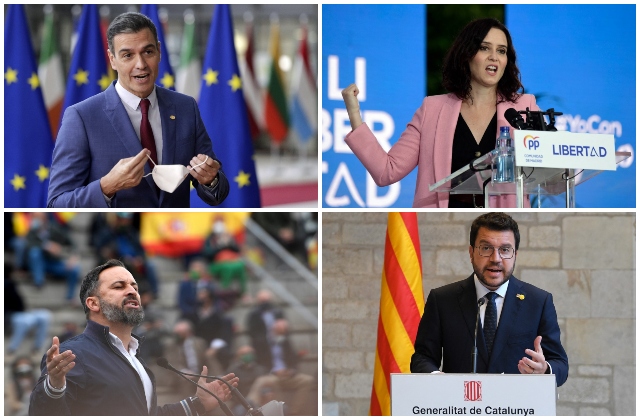 Top left: Spain's Socialist Prime Minister Pedro Sánchez, top right: Madrid's right-wing regional leader Isabel Díaz Ayuso, bottom left: far-right Vox party leader Santiago Abascal, bottom right: Catalonia's regional leader Pere Aragonès. Photos: AFP
For members
Spain's PP is hot on the heels of PSOE, but will they need Vox to govern?
With the next general election slated for December 2023, recent polling shows Spain's Conservatives gaining ground on the Socialists. Spanish political correspondent Conor Faulkner looks at whether the PP will need far-right Vox to govern, as they now do at a regional level.
Published: 20 May 2022 11:02 CEST
Updated: 20 May 2022 12:24 CEST