While the temptation may be there to stick with the statutory public health insurance (or gesetzliche Krankenversicherung) that covers almost 90 percent of the country's population, if you earn over €64,350 per year, or you're self-employed, you have the option to switch to private health insurance (or private Krankenversicherung).
Together with Germany's first fully-digital insurance provider, ottonova, we give you five reasons why it's a good idea to consider the switch from public to private.
Learn more about how ottonova can help safeguard your health over the coming years
There will never be a better time
The premiums you pay for private health insurance are calculated based on a wide variety of factors, two of the most significant being your age and current state of health – the older you are when you take it out, the more you're likely to pay.
If you were to suddenly develop a serious or chronic illness, you might find that there are hefty risk surcharges for taking out private health insurance, or you could even be refused coverage.
When you consider the fact that none of us are able to slow our ageing, you can imagine it can cost a lot of money as you begin to encounter more health problems over the years.
Taking out private health insurance now means that you can 'lock in' premiums based on your current state of health, meaning that it should cost less if you were suddenly to fall seriously ill.
It's an investment in your future
It's true of health insurance as it is with many other things – you get what you pay for. While statutory public health insurance is generally very good in terms of covering basic treatments, you'll find that some of your preferred medications or treatments will either not be covered, or require a substantial co-payment.
You might also find that some things you consider essential – vaccinations, hearing aids and specific types of therapy – are not covered at all, leaving you out of pocket.
Preventative care is also largely not covered on statutory public health insurance. This means that the routine procedures or prescriptions that may prevent illness aren't covered. With a private insurer, you can get preventative check-ups, such as mammography, before the statutory age at which they're available through public insurance.
And as you probably know, the sooner many diseases and health issues are detected, the better they can be treated. With ottonova, there's even a reminder service to tell you when to go for checkups and help you find the right doctor.
Another important factor to consider is that private health insurance is not affected by demographic change. Public statutory health insurance in Germany is built upon the idea of solidarity – everyone pays to cover what is essentially a rapidly ageing population. This means that, over time, those on public health insurance end up paying more as life expectancy increases.
Switching to private health insurance means that your premiums will not necessarily rise at the same level as everyone else, saving you money in the long run.
Once you've got the coverage, you'll keep the benefits
Once you take up a policy with a private insurance provider, such as ottonova, you keep the benefits that it includes forever. This isn't the case with public statutory health insurance. As economic and social circumstances change, legislators can make changes that mean that those on public insurance can lose important benefits, or be forced to make sizable co-payments.
For many people, paying a little bit extra for private health insurance ensures the options for your healthcare will always increase as medical technology and medications develop over time. For some, private premiums may even be lower than what you would pay for public insurance.
Take advantage of the latest and most advanced medical care, with health insurance from ottonova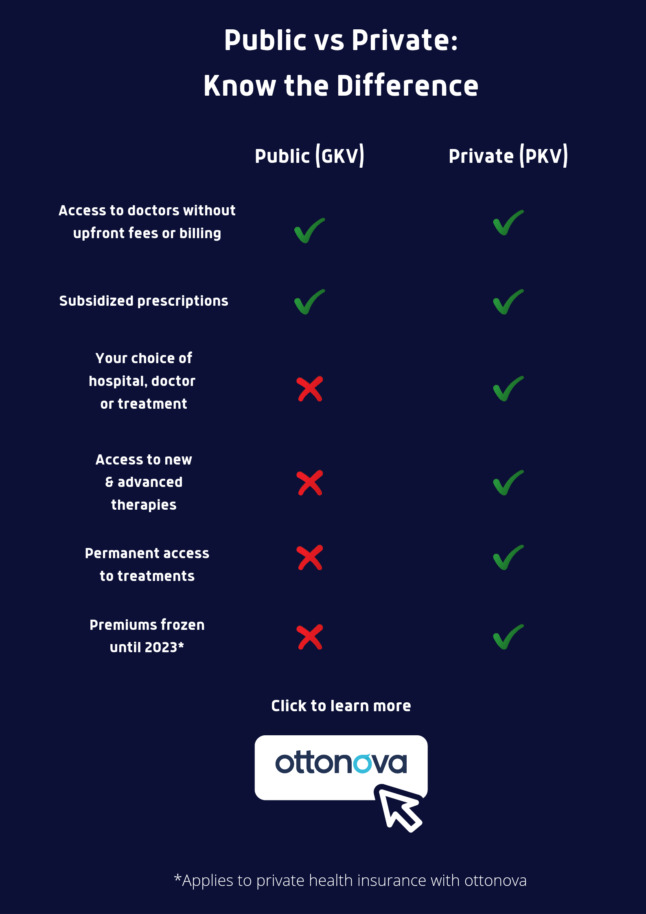 Worth its weight in gold: the Geld-zurück-Garantie!
One great thing about ottonova, one of Germany's most recognised private health insurers, is that if you aren't satisfied with the service and coverage you receive, you can get 100 percent of your ageing provisions back when switching to a different private health insurance provider within two years – a money back guarantee (or Geld-zurück-Garantie).
Ageing provisions are small payments, included in your premium, that offset any significant changes in your premiums in old age. If you're on the expat tariff, you won't pay these ageing provisions to begin with, making your premium less expensive from the start.
We're living in uncertain times
It's impossible to avoid the fact that we are living through a challenging period. The coronavirus pandemic has caused massive disruptions to almost every facet of our lives and having the right health insurance is probably more important than ever.
With private health insurance, you have the best possible range of treatment options and hospital choice should you contract Covid-19, including some that simply aren't available on statutory public health insurance.
If you don't have private health insurance and you become ill with Covid-19, there's a risk that you could find it very costly or almost impossible if you only decide later on that you want to go private.
In order to help more people safeguard themselves against these kinds of obstacles, ottonova is keeping its premiums stable until 2023, giving you peace of mind.
If you meet the income threshold or you're self-employed, and you're planning to stay in Germany for the long term, it just makes sense to take out private health insurance. When you decide to do that, ottonova's English-speaking insurance experts are ready to help you.
Take the first step and find out more about health insurance with ottonova today