The accident was announced by Italy's national fire and rescue service, Vigili del Fuoco, at 13.50 on Sunday, with the agency saying over Twitter that a helicopter from the nearby town of Varese was on the scene. 
🔴 #Verbania #23maggio, caduta una cabina della funivia che collega Stresa-Alpino-Mottarone. Risultano persone decedute, il bilancio è provvisorio. Squadre #vigilidelfuoco al lavoro. Sul posto l'elicottero del reparto volo di Varese [13:50 #23maggio] pic.twitter.com/y4SnbDNNjz

— Vigili del Fuoco (@emergenzavvf) May 23, 2021
Italy's National Alpine and Speleological Rescue Corps confirmed that there were 13 victims and two seriously injured people.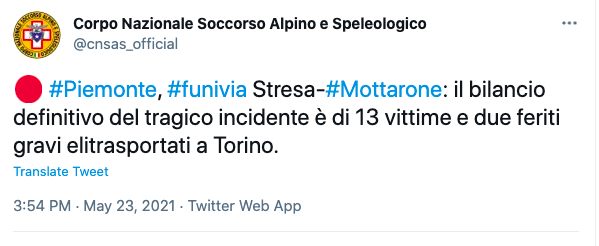 Italian daily Corriere della Sera reported that German tourists were among the 13 victims.
According to their report, there were 15 passengers inside the car — which can hold 35 people — at the time a cable snapped, sending it tumbling into the forest below. Two seriously injured children, aged nine and five, were airlifted to hospital in Turin. 
The cable car takes tourists and locals from Stresa, a resort town on Lake Maggiore up to a panoramic peak on the Mottarone mountain, reaching some 1,500m above sea level. 
According to the newspaper, the car had been on its way from the lake to the mountain when the accident happened, with rescue operations complicated by the remote forest location where the car landed. 
The cable car had reopened on April 24th after the end of the second lockdown, and had undergone extensive renovations and refurbishments in 2016, which involved the cable undergoing magnetic particle inspection (MPI) to search for any defects. 
Prime Minister Mario Draghi said on Twitter that he expressed his "condolences to the families of the victims, with special thoughts for the seriously injured children and their families".
Infrastructure Minister Enrico Giovannini told Italy's Tg1 a commission of inquiry would be established, according to Corriere della Sera: "Our thoughts go out to those involved. The Ministry has initiated procedures to set up a commission and initiate checks on the controls carried out on the infrastructure."
"Tomorrow morning I will be in Stresa on Lake Maggiore to meet the prefect and other authorities to decide what to do," he said.