PLEASE NOTE: The fines have since been partially relaxed. Please click here for more information. 
The rules went into effect on January 18th in an effort to rein in the spread of coronavirus infections, including those with the mutated strains, which have been on the increase in recent weeks.
These measures include the closure of bars, restaurants, and all non-essential businesses. Also, there is a limit of up to five people for public and private meetings, along with the working from home order whenever possible.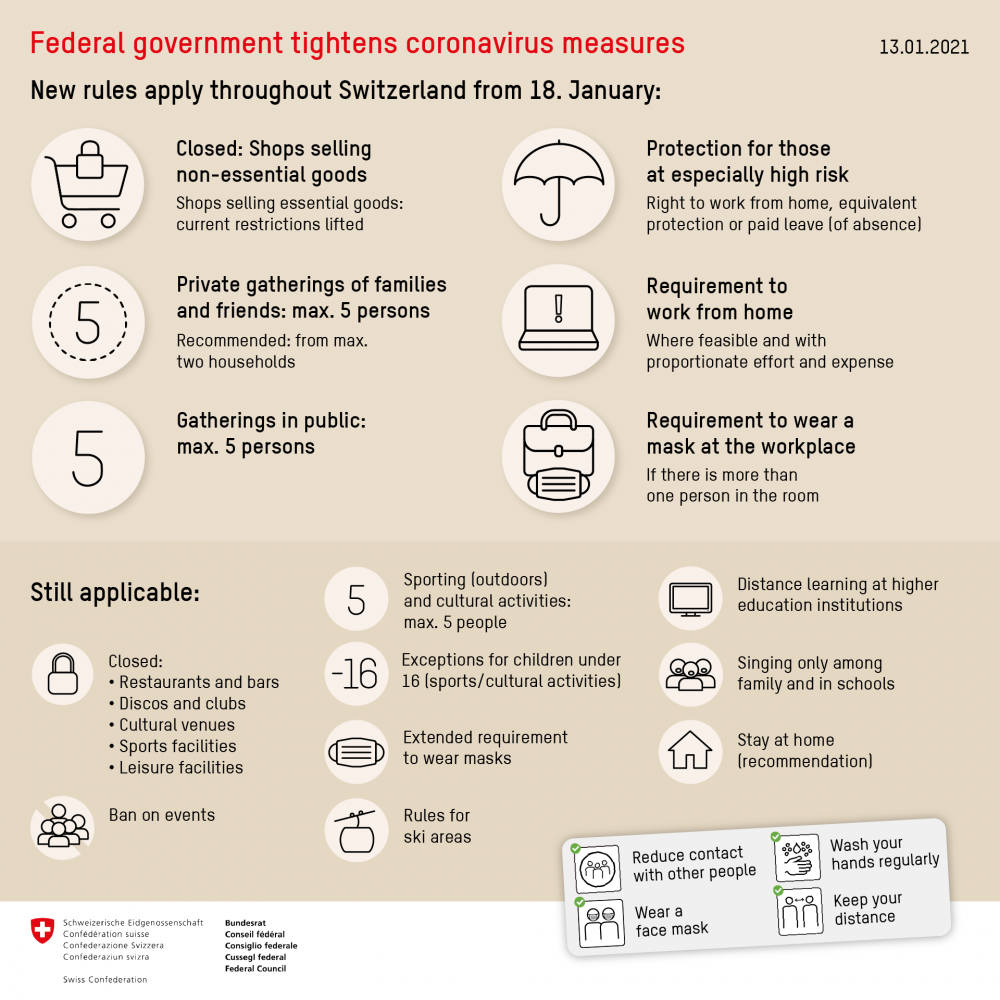 "Anyone contravening the measures to fight the epidemic will be committing an offence; persons who fail to comply with the rules may be fined between 50 and 200 francs, depending on the offence", the government said. 
READ MORE: EXPLAINED: What are the details of Switzerland's coronavirus restrictions? 
So what are the penalties for violating the above rules?
Organising a private event attended by more than five people: 200 francs
Gathering of more than five people in public space: 50 francs
Participating in an illegally organised event: 100 francs
Not wearing a mask on public transportation or in an airport: 100 francs
Not wearing a mask at public demonstration: 100 francs
Standing up while consuming in a bar or restaurant: 100 francs
Not complying with a quarantine requirement: up to 10,000 francs
Hundreds of fines have already been handed out for breaking Covid-19 rules.
For example, the police in the canton of Zurich imposed around 100 fines in the first week of February alone. Vaud handed 106 fines, while in Geneva, Valais and Thurgau, between 30 and 40 fines were issued in the first days of February.
Most fines have been imposed for exceeding the limit of five people for both public and private gatherings, cantonal police departments report.
READ MORE: Here's how much you'll be fined for breaching Switzerland's coronavirus measures