While there were no longer any major obstructions on the roads for motorists on Wednesday evening, around 6,500 households in Jena had to cope without heating and hot water. 
The city in the northeastern state Thuringia had declared a disaster after a district heating pipe ruptured.
Everything has been running again since Thursday morning – according to the municipal utility, the repair was successfully completed during the night. 
Nuremberg and Braunschweig also recently experienced problems with their district heating supply in freezing temperatures.
In Berlin, a 43-year-old man who had gone missing on Wednesday after an ice bath in a pond in Treptower Park died. He was missing for two and a half hours and then found by that rescue divers. He was resuscitated and sent to hospital severely hypothermic where he succumbed to his condition. 
The fire department warned against stepping on ice surfaces and appealed to people not to be reckless.
"Bathing in ice is life-threatening," a spokesman said. Parents should inform their children about the dangers, he added.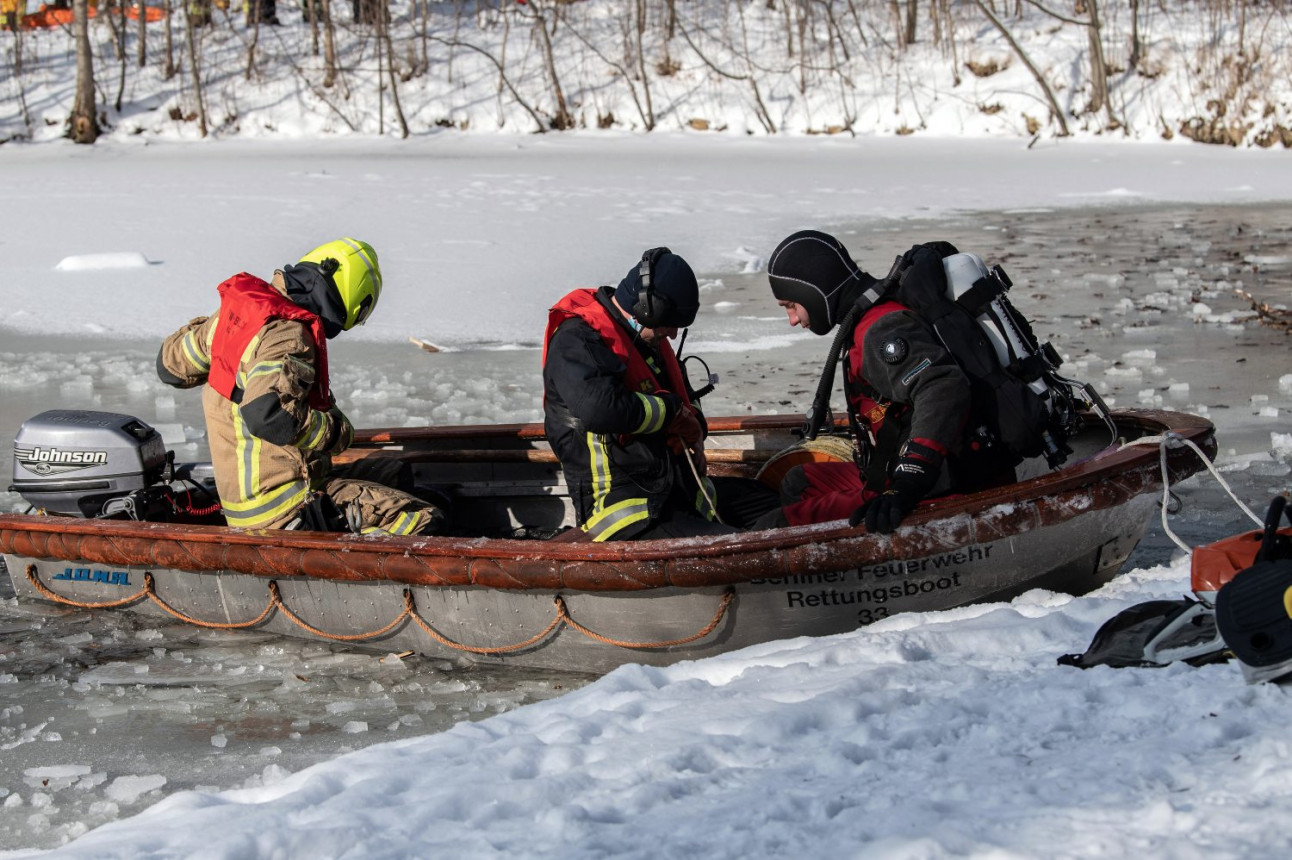 Firefighters and rescue workers tried to save a man who had been ice bathing in Berlin's Treptower Park. Photo: DPA
A missing 49-year-old man in the Rostock district of Mecklenburg-Western Pomerania was lucky. According to the police, emergency services found him shortly before midnight at temperatures of -7C.
The man had gotten lost in the forest several kilometers away on Wednesday and was completely hypothermic, so he would probably not have survived the whole night, according to an emergency doctor.
READ ALSO: When was Germany's coldest winter?
Train and road traffic still affected
Deutsche Bahn (DB) reported at the start of Thursday that the cold snap with temperatures locally as low as -20C continues to affect long-distance and local traffic.
"Due to the extreme weather, vehicles and parts of the infrastructure such as switches and overhead lines are under particular strain." 
Schönen guten Morgen! Hier kommen sie schon, die Tiefstwerte der vergangenen Nacht. Für -20 Grad hat es diesmal aufgrund der Bewölkung nicht gereicht. Dennoch verbreitet wieder strenger Frost unter -10 Grad. /V pic.twitter.com/VoHHLqXhO5

— DWD (@DWD_presse) February 11, 2021
This tweeted graphic from the German Weather Service shows temperatures around Germany on early Thursday morning. Photo: DPA
Long-distance traffic continues to run on many affected routes, he said. "On the east-west connections, there is a limited but stable service," it said. More trains were also rolling again between north and south.
On Thursday, cross-border traffic to the Netherlands was also expected to resume.
In Kassel in Hesse, the main train station continued to be closed to train traffic due to snow loads on the roofs.
The clearing work was continuing, a spokeswoman for the North Hessian Transport Association (NVV) said Thursday morning. 
The clearing of the roofs was difficult because they were old and not accessible.
In Bad Salzuflen, North Rhine-Westphalia, the roof of an industrial hall partially collapsed under the weight of snow.
It buried two truck trailers under itself on Wednesday evening, according to the fire department. The hall was deserted, so no one was injured.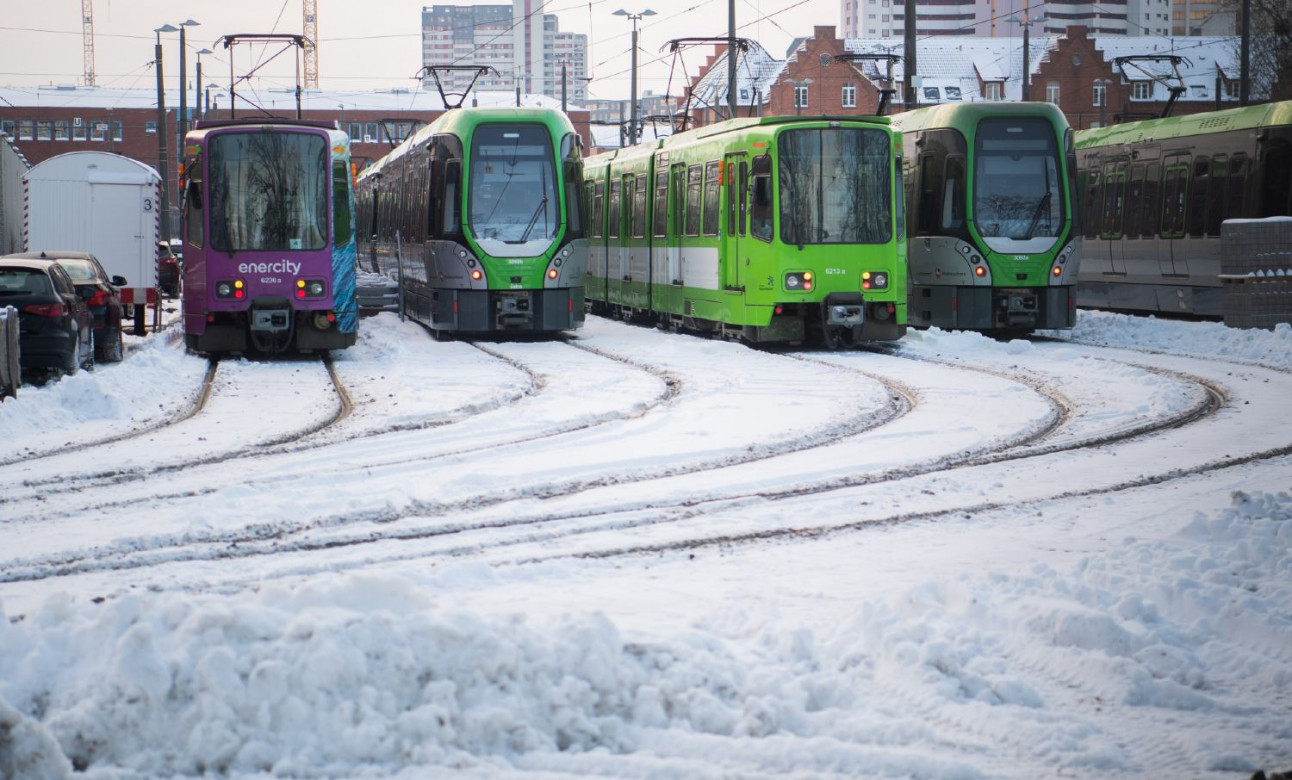 Local trains in Hanover head out over snowy tracks on Thursday morning. Photo: DPA
The situation on the roads calmed down. In the Bielefeld area (North Rhine-Westphalia), where cars and trucks on the A2 had been extremely congested in some cases in previous nights, traffic flowed largely without problems. 
"It's more relaxed than the nights before," a police spokesman said.
Near Braunschweig, many trucks continued to park on the hard shoulder on the autobahn because rest areas were full, according to police there. However, there had been no accidents.
A spokesman for the Göttingen highway police said there were "finally no problems".
Continued cold front
It remains frosty in Germany. "On the edge of a weather front over northern Europe, very cold Arctic polar air is being directed to Germany with a northeasterly flow," the German Weather Service reported Thursday.
"At the edge of the Alps, an Italian low will initially still provide snowfall."
READ ALSO: Why Germany is facing extreme winter weather this month
During the day on Thursday, there would continue to be widespread light to moderate permafrost between -1C and -10C around Germany, they said.
On late Thursday night and early Friday morning, moderate to severe frosty temperatures between -8C and -17C are to be expected throughout Germany.
However, in the central and eastern mountain region as well as in parts of southern Germany, the Mercury could dip to -20C.