On early Wednesday morning, the eastern state of Thuringia recorded the coldest temperatures in all of Germany, according to the German Weather Service (DWD).
Mühlhausen clocked in the coldest temperature with -26.7C, followed by Olbersleben with -26C and Dachwig with -25.7C.
According to the DWD, however, these temperatures are still a long way from the coldest temperatures ever measured in Germany.
The record is held by Hüll, Bavaria, which recorded a temperature of -37.8C in 1929.
The following graph from DWD shows the 'cold spots' in Thuringia.
How is the weather affecting train and car traffic?
As of Wednesday morning, there were still problems with train traffic in Germany. 
"Today and in the next few days travellers in many parts of the country must expect significant restrictions in local and long-distance traffic due to the weather," said a spokeswoman for Deutsche Bahn.
However, while Monday and Tuesday brought traffic chaos to German Autobahns, the situation appeared to have calmed down slightly around the country on Wednesday morning.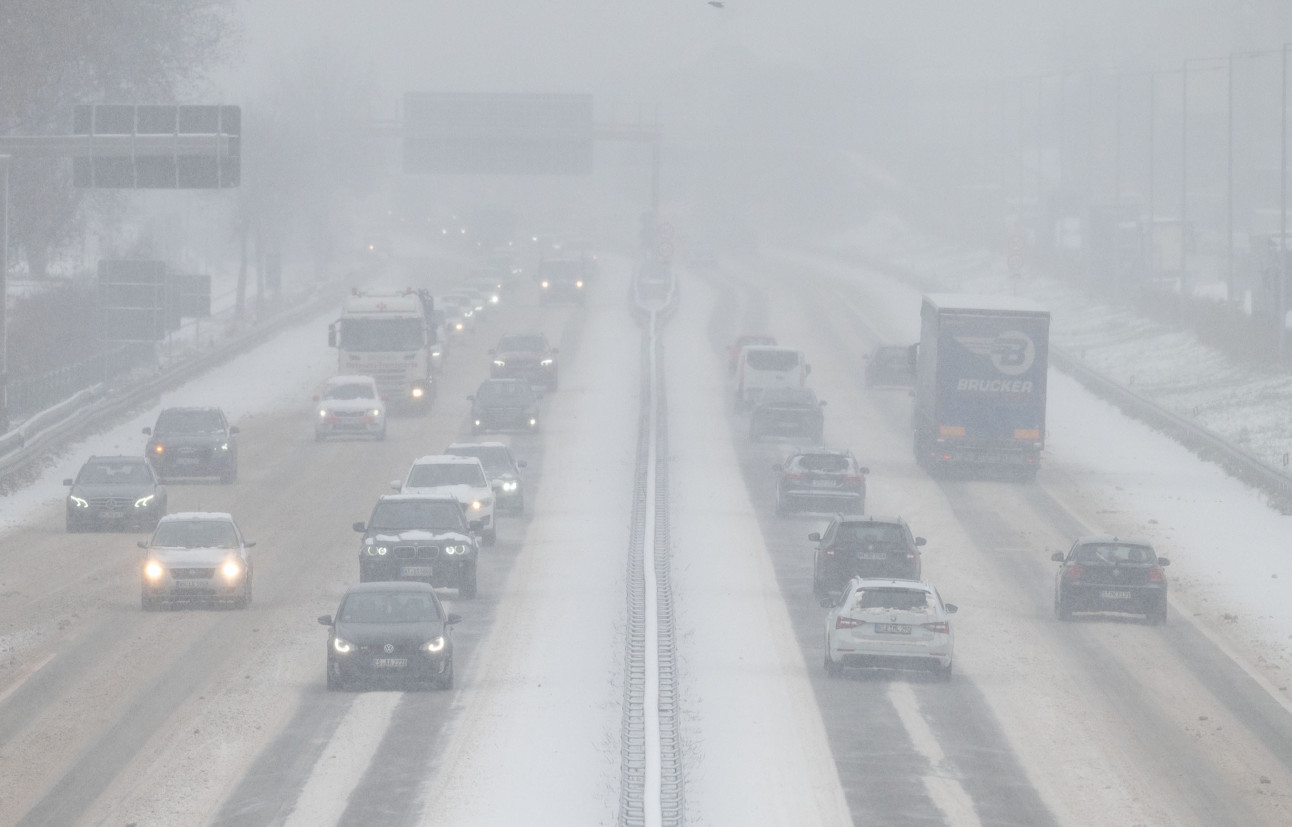 Cars on snowy roads in Stuttgart on Wednesday morning. Photo: DPA
According to a police spokesman, traffic on the A2 near Bielefeld – which was hit particularly hard by the storms – was moving on Wednesday morning. 
At present, however, there was still a "latent danger situation" due to trucks parked on the hard shoulder because the drivers had to observe their rest periods – and were asleep.
READ ALSO: Hundreds of drivers spend night on Autobahn as snow chaos continues
In other states, police stations reported isolated accidents due to slippery black ice on the roads.
In Schleswig-Holstein, the A7 in the Rendsburg-Eckernförde district was temporarily completely closed in the direction of Hamburg after a snowplow caught fire. 
In Mecklenburg-Western Pomerania, the police did not have any accident reports for the coastal regions. In Thuringia, a police spokesman also expressed relief that the situation had improved.
"We are happy that it has not snowed again," he said.
Slightly warmer temperatures
Although there is slated to be less snowfall for the remainder of the week around Germany, temperatures will remain icy cold.
"The weather front 'Gisela' means that northern and northeastern Germany will experience widespread frosty temperatures during the day and at night for severe frosts around -20 degrees," explained DWD meteorologist Jens Bonewitz. 
In Berlin daytime temperatures from Thursday through the weekend, will hover around -1C or -2C – an improvement from earlier this week when they dropped to as low as -10C.
READ ALSO: Why Germany is facing extreme winter weather this month
From Thursday onwards – unlike earlier this week – the cold air will also drift to the south of Germany. Between Thursday and Saturday, daytime temperatures in Munich will range between -6C and -3C.
They reached a high of 12C last week as the south of Germany enjoyed mild Mercury readings.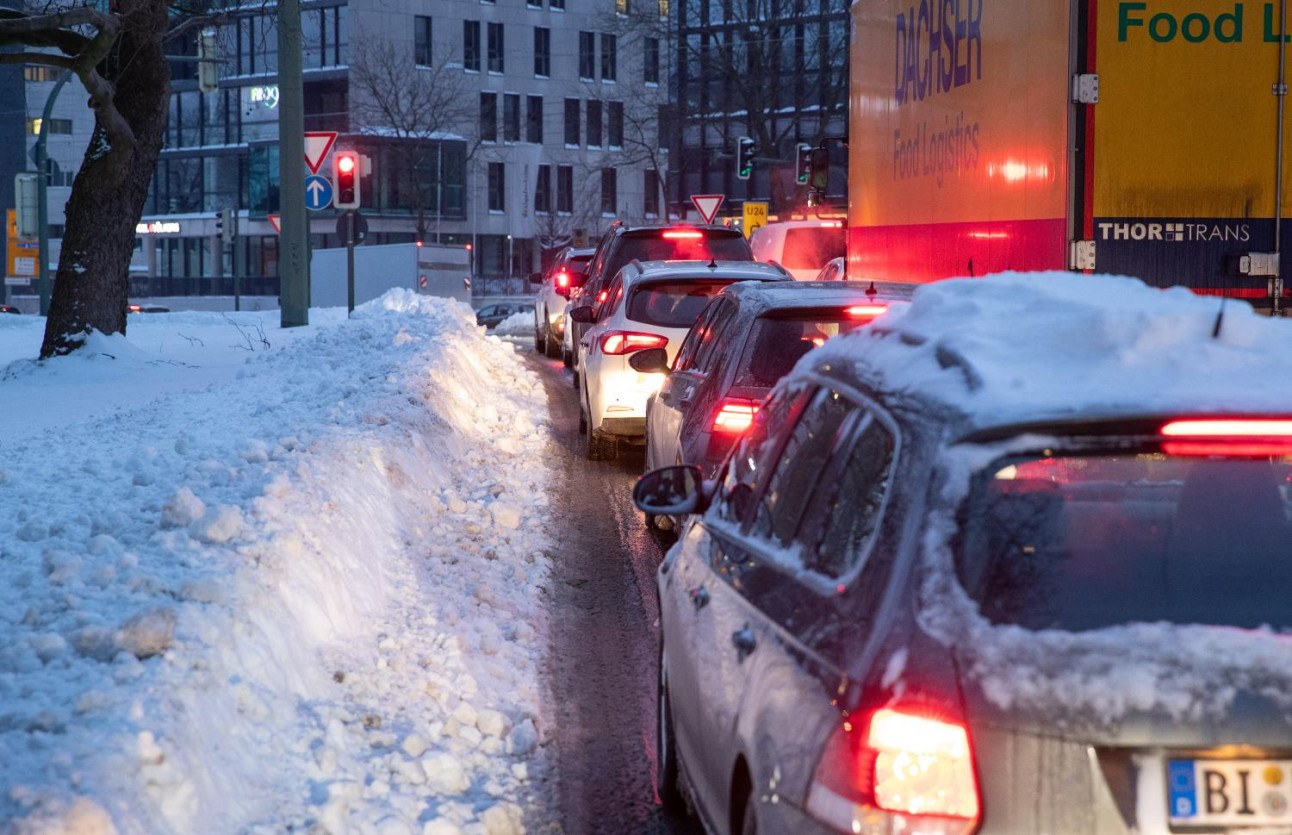 Traffic in Bielefeld, where temperatures were -10C, on Wednesday morning. Photo: DPA
'Calming down'
German Transport Minister Andreas Scheuer (CDU) said he expected more disruptions due to the extreme winter weather. 
"In many regions of Germany, the situation is gradually beginning to calm down. However, it may take some time before everything returns to its normal course," he said. "Impairments remain in some stretches and areas."
Inland shipping is also affected by the winter weather: From Wednesday evening, the Mittelland Canal – the largest in artificial waterway in Germany, and the Elbe-Seitenkanal are slated to remain closed.
Meanwhile, aid organisations stepped up their efforts to help the homeless, providing them in many places with warm food, drinks, clothing, sleeping clothes and hygiene items. 
The coronavirus pandemic is further exacerbating the situation for those in need, according to Diakonie, the welfare organization of the Protestant churches.