Ica is one of the major supermarket chains in Sweden, and its TV adverts are well-known in Sweden. 
They take the form of a mini 'soap', each advert lasting less than a minute and following storylines set in an Ica store, showcasing the current special offers and low prices. They've been running in this format since 2001 and hundreds of episodes have been broadcast.
Ica-Stig is one of four main characters in the adverts, along with Ulf, Roger and Kajsa. Stig is the owner or handlare of the store. According to the English language version of Ica's website, the Ica handlare "is usually a person who is liked by the customers and who also performs good work for the local community".
The plots have included national holidays, new hires and substitutes, and only-in-Sweden experiences such as the store employees having to escape after someone opens a tin of fermented herring, or having a Midsummer barbecue indoors because it's raining outside.
It's been a big topic of discussion recently because the actor who plays Stig stepped down. Speculation on social media was rife as to who the replacement would be, and Ica played along by dropping clues in the films.
So just how big a deal is this in Sweden?
Well, fairly big. The Ica adverts have earned a spot in the Guinness Book of World Records as the longest-running ad series of all time. Celebrities not only from Sweden but overseas have featured in the commercials, including beloved singer and actress Lill Babs, Eurovision hero Måns Zelmerlöw, and British chef Jamie Oliver.
The previous Stig was in the role since 2015, stepping into the shoes of an actor who played him for 13 years. Many people in Sweden see Stig as a constant in their lives. Those who are so inclined can catch up on any missed episodes on YouTube or Ica's own app. Even competitor supermarket Lidl gave a nod to his departure, with an advert saying "Retiring doesn't have to be hard to bear. Welcome, Stig!" to promote their pensioner-friendly prices.
When the new stars were announced this weekend, the Aftonbladet tabloid splashed on the news over the weekend, while '#Ica-Stig' trended on Twitter.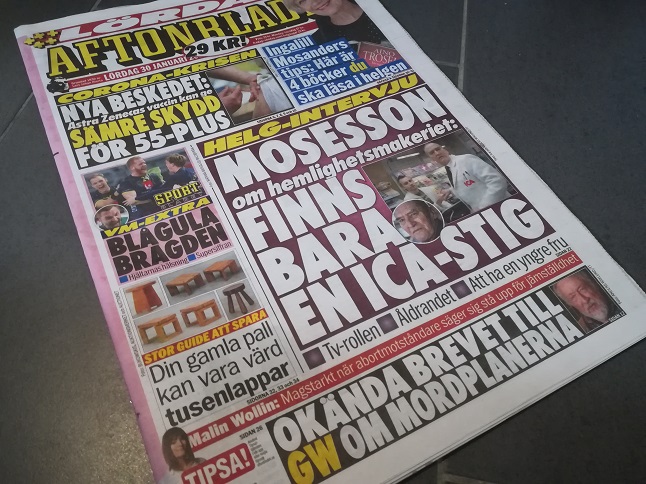 Aftonbladet featured an interview with the first actor to play Ica-Stig, saying "There is only one Ica-Stig". Photo: Emma Löfgren
The actor getting the honour of being the next Ica-Stig 2.0 is Björn Kjellman, an actor and singer who among other things has competed in Melodifestivalen and Eurovision.
But there was a twist to the news.
Stig is getting a sister, Ica-Stina, played by Suzanne Reuter, a prolific Swedish actress who has appeared in dozens of films. Stina has returned from years travelling the world to pick up work in the store where she owns a 51 percent share, the first advert revealed.
Watch the advert below and see if you think it's worth the fuss.
Swedish vocabulary
advert – reklam
special offer – erbjudande
(TV) soap – såpa
celebrity – kändis
sister – syster