Sweden confirmed its first case of coronavirus on January 31st, 2020, a woman in the city of Jönköping who tested positive and later recovered. Since then, more than half a million people in Sweden have had the infection, more than 11,000 have died, and more than 100 million cases have been reported globally. But there's light ahead: vaccinations are currently under way, and more than 200,000 Swedes have received the vaccine so far.
In the past year, we have made an extra effort to raise your voices on The Local, for example by asking for your opinions on the Swedish response to the pandemic (we did this for example in April, in June, and in December)
We have also written about specific situations and challenges facing groups of readers, including people belonging to risk groups, those who moved to Sweden during the pandemic, the international student experience, how your workplaces responded, long-distance relationships, challenges facing new parents, and your Christmas plans. You can read the latest news about the outbreak in our paywall-free blog.
Below, we ask The Local's readers to reflect on the year that's been – and the year ahead.
'We should look onwards to a new normal'
Weird. Work-life balance was certainly disturbed. On one side the possibility of being jobless, but also lots of work condensed and more efficient than ever because of the reduced work week.
On the other hand my passion for cycling was moved to another level. Restrictions and responsibility also took a toll on personal life. I haven't seen my family for over a year (except video calls), I kept contact only with max five people, skipped long vacation and Xmas travels. But overall I think 2020 wasn't the worst, it was just different. Helped me understand what is important, what is not. To be honest, we humans should not look back to 2019 normal, we should do 2021 and onwards to a new normal. More eco, less destructive.
Jakub, Gothenburg, from Poland
***
'In it together'
The past year has been a roller coaster. Failed trips abroad, haven't seen my family for over a year. Being isolated at work since March 2020. No after works, friends being skeptical about meeting up. It has been the year of walking whenever possible. On top of that I have a failed relationship under the belt. Ending up in a break-up due to stress and not being my true self last year.
Things can only get better I suppose. Picking up new hobbies, reaching out to friends in the same situation. Trying to fill out the time and enjoy one's company. I'm surprised with how many people feel the same way. In it together.
Anonymous, Gothenburg, from the UK
***
'I have not received the medical attention I require'
I've had a very difficult year. It started off when one of my best friends from home (Canada) unexpectedly passed away. After that I had a feeling of impending doom. Then Covid came. As soon as it was starting to spread, I was called by my doctor to say they had an opening for surgery. I have a chronic illness called Endometriosis and it was spreading throughout my pelvic region, and causing immense pain.
I was terrified. I had the surgery and wasn't allowed any visitors. That was a lonely and scary experience for me. I wanted my mother. Since then, I've been very ill. The surgery was unsuccessful, and I have not received the medical attention I require since my doctor is overworked.
I am also in the risk group and have been terrified all year that my husband will bring home the virus from work. He works in construction. I've found it frustrating how his coworkers, friends and family have not taken the virus seriously until recently, but some of them still are not. I miss home and haven't seen my family and friends for over a year. It's been very isolating and lonely, and I have been suffering from a dark depression. I've been in isolation a year, only going out occasionally for essential items and so I don't lose my mind.
I have been wearing a mask since the beginning and have received dirty looks and stares. I live in a small farm village.
My husband's coworker is now home sick with symptoms and we are waiting for his test results. It's unsettling. I don't feel like we will make it to the vaccine.
Andrea, western Sweden, from Canada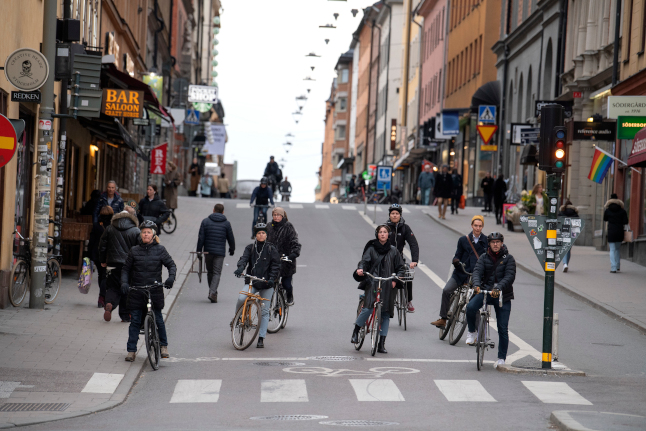 Cyclists in Stockholm in April, 2020. Photo: Jessica Gow/TT
'Has this pandemic tarnished Sweden's image?'
Confusing. Came here in June 2020 and been working hard to settle in and as they say do as the Romans do. Learned Swedish and different cultural views. Expected it to be hard moving during the pandemic but didn't expect it to be difficult that I find myself not feeling safe having a different view on how to handle the pandemic than the government.
Heard so many good things about Sweden, but has this pandemic tarnished their image? Experienced racism, and terrible reactions because I decide to wear a mask. On top of everything, I'm pregnant. How am I going to raise my child here?
Diyana, Gothenburg, from Singapore
***
'I've been able to meet people more easily'
For me it's going great while working from home. I've had more time to sell some of my technical stuff accumulated over the past years, to increase the comfort in my apartment by improving it with more automation, found new hobbies and had time for developing new skills in IT, electronics, building automation and photography.
The past year was also a good opportunity to save money, to get outdoors alone by myself, make plans for building a summer house on the land purchased now one year ago and meet people more easily via videoconferencing while staying safe and away from the city life.
Andreas, Täby, Romanian-Swedish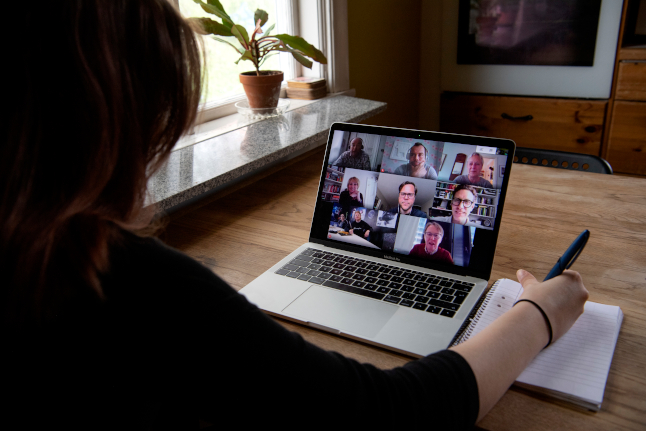 More people than usual have been working from home in the past year. Photo: Jessica Gow/TT
'We'll remain responsible, patient, creative, and optimistic'
My wife and I moved with our two daughters, then aged four and six, from Croatia in October 2019. We expected a challenging first year in Sweden, but we successfully navigated most of the issues. School and kindergarten enrolment went well. My wife got a job and started SFI (Swedish for Immigrants). I managed to register as self-employed and open a bank account. Magically, all without personnummers, which we only recently received.
When corona came, we used common sense and limited contact with others, went only to school and store, and tried to work from home as much as possible. We had one day trip to Stockholm during the summer holidays and one weekend trip to Dalarna. It wasn't always easy to explain the limitations to kids and organise activities.
Luckily, we're in Sweden, so we spent a lot of time outdoors. During one picnic, we built a small campfire and roasted marshmallows. It was the first time for us, and the kids loved it, so we repeated it few more times. There are still challenges and uncertainty ahead. However, we're trying to make the most of things that are under our control. We'll remain responsible, patient, creative, and optimistic.
Darko Topolko, Uppsala, from Croatia
***
'It became clear by midsummer that we should stay'
As a family, if someone had told us at the start of 2020 that we would have moved back to Sweden within a few months, we would not have believed it. Life was good in London, even in the shadow of Brexit. But here we are!
We left London for our Swedish summerhouse the day before UK lockdown, with a plan to stay until the UK schools reopened "after Easter", but of course that was wishful thinking and it became clear by midsummer that we should stay. It just wasn't possible for us to be there for my Swedish wife's parents otherwise, and we realised the interests of our children would be so much better protected in this country right now.
Fortunately I can do my current job remotely which took much stress out of the decision. So we rented out our London home, found an apartment here and moved our things over. And now we have a new life in Stockholm, just waiting for the right time to start socialising properly again. It feels like we are in a "holding position", but I feel quietly optimistic that this horrible pandemic will be pretty much "over" here by the summer…
Paul, Stockholm, from the UK
***
'Can't wait to leave'
Having lived here for 16 years, the past year has been solid proof of what I had discovered myself, and was never able to voice my opinions on. Sweden has shown the world their stupidity, incompetence, arrogance and individualism… at the cost of lives in their "strategy" for the Covid response. I have followed what other countries are doing to help save lives and curb the spread. This past year has been a solid confirmation to me that my decision to leave Sweden is definitely the correct one. Can't wait to leave.
Anonymous, Stockholm, from Southeast Asia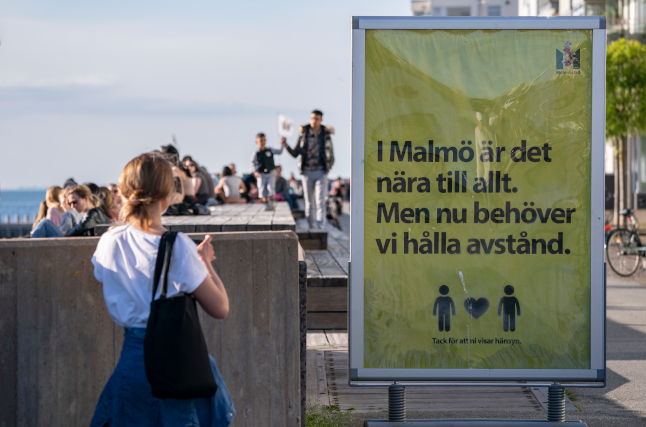 A sign in Malmö urging people to keep their distance. Photo: Johan Nilsson/TT
'I wonder what the hell is going to happen next'
It hasn't been a good year, losing my café-based job and having to deal with the massive financial decrease of living on a-kassa (unemployment insurance), because of the way things are calculated. The fear of being in one of the risk groups and not knowing what the hell was going on, not to mention the general fear of the virus, watching Swedens actions and comparing to the rest of the world.
Missing family in New Zealand, we'd planned to catch up! Looking for work in a world where there isn't any I seem to stand a chance of getting, and now facing an end of my a-kassa and what the hell is going to happen next, I've had no luck trying to change areas of work. I miss being able to swim and go to the gym, I am developing quite bad depression and some anxiety over what will happen once a-kassa runs out!!
There have been good points as well, ironically not working has meant I have spent more time with my partner, we have been together for holidays which I have worked for several years. I have met some of my partner's family I had never met, we travelled around Sweden a little. I have managed to tidy organise some of the craft materials we have. I'm rearranging the cupboards and sorting through them.
It's been an odd year, unfortunately this year is shaping up to be worse in some ways.
Kiree, Stockholm, from the UK/New Zealand
***
'The last year has been one of adaptability'
As a US citizen/resident married to a Swedish resident, the last year has been one of adaptability from ever-changing flight schedules, quarantine rules and testing requirements. But even with all the hurdles we were still able to get together for five months last year.
Eric, Jönköping/US, from the US
***
'2021 has already brought some relief'
In one word: "mentally exhausting". The year started off great as I was doing my master thesis in my dream field, aerospace engineering at GKN Aerospace at Trollhättan. I was hoping to land a final job at the same company. All plans were of course upended by Covid. The next few months were spent applying for innumerable jobs, only to be met with radio silence! That is when I changed my plans and instead started looking for a PhD position.
I got lucky to land a PhD position immediately at Chalmers! The rest of the year since then has been a never ending cycle of work from home and video calls to my family and my girlfriend as they stay in India and USA respectively. However 2021, has already brought some relief as I have been able to meet my family and my girlfriend.
Debarshee Ghosh, Gothenburg, from India