The IXE survey showed that 26 percent favoured new elections, while 11 percent would like the coalition government to stay in place, but under another prime minister.
EXPLAINED: Why has Italy's prime minister resigned and what happens now?
A further seven percent of respondents said they would rather have a new centre-right coalition in power, while 11 per cent of those polled had no opinion.
Conte was also confirmed as the country's most popular politician, with 52 per cent of respondents expressing confidence in him.
The prime minister resigned on Tuesday after former premier Matteo Renzi withdrew his small Italia Viva party from the coalition government, leaving it short of a majority in the Senate.
Since Wednesday, President Sergio Mattarella has been in talks with party leaders to seek a way out.
Talks are scheduled to run until Friday.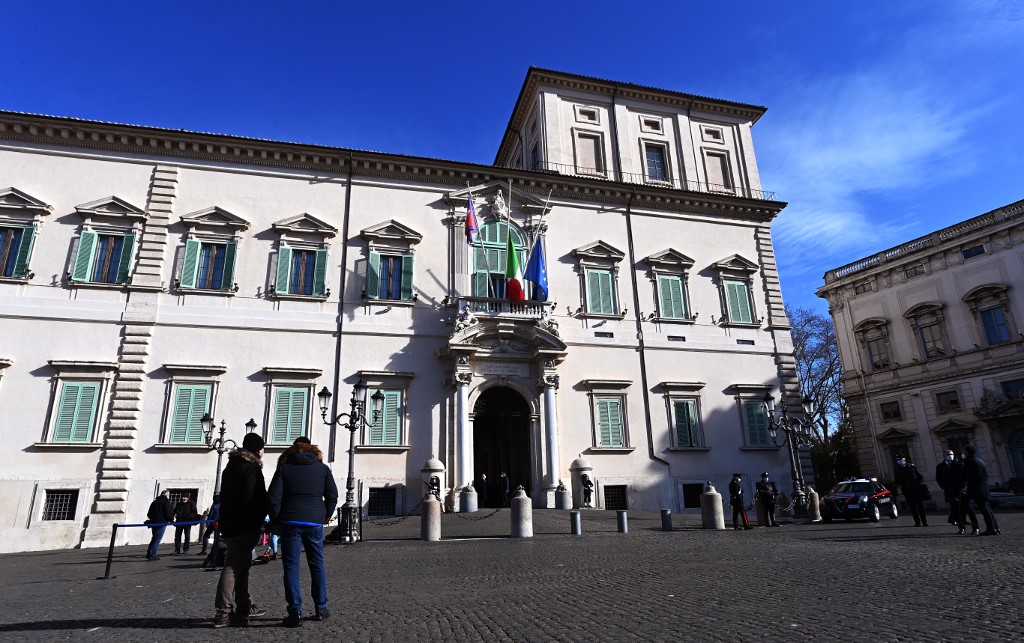 Talks on saving the government are being held at the Quirinale presidential palace in Rome. Photo: AFP
The main parties behind the outgoing government – the populist Five Star Movement (M5S) and the centre-left Democratic Party (PD) – have thrown their support behind Conte.
Conte hopes Mattarella will ask him to form a new government, but this depends on whether he can assemble a new ruling coalition.
PROFILE: Italy's Giuseppe Conte, from 'populist puppet' to political survivor
But to keep his job, Conte either needs to make up with Renzi or win over a few opposition senators to get his majority back.
The crisis has left Italy rudderless in the middle of a coronavirus pandemic that has claimed almost 87,000 lives and caused an unprecedented recession.
Gregorio De Falco, an independent senator who has offered to support a new Conte-led cabinet, stressed the urgency of ending the political stalemate.
"The country is going through a very dangerous health emergency and a devastating economic crisis. We need to act quickly," he said after meeting Mattarella.
The head of state was due to meet the main players of the political crisis, including the M5S, the PD, Renzi and the centre-right opposition parties, on Thursday and Friday.
Meanwhile on Thursday, Conte gave witness testimony in a case against anti-immigration League party leader Matteo Salvini, who is accused of illegally detaining migrants at sea while interior minister.
Despite the ongoing political crisis, Conte appeared before a judge seeking to decide whether Salvini, who is no longer in government, should face trial.