The class action is a first in France, carried out by six international and French human rights organisations including Amnesty International and Human Rights Watch.
The NGOs accused French police of engaging in "longstanding and widespread ethnic profiling that constitutes systemic discrimination".
"Despite incontrovertible evidence that French police have for many years engaged in systematic discrimination in carrying out identity checks, and commitments by successive governments to address the problem, nothing has changed," the NGOs said in the formal notice sent to the French government, giving them four months to respond.
The warning letter – 350 pages thick – included testimonies of people saying to have been victims of ethnic profiling during identity checks in nine French cities including Paris, Lyon and Toulouse, as well as police officers denouncing identity checks as "useless".
Identity checks specifically and police racism more broadly have been matters of fierce debate for years in France, which gained strength in the summer of 2020 after George Floyd died at the hands of police in the United States.
Thousands of protesters in France disregarded Covid-19 health advice and took to the streets following the killing to protest against racially motivated police brutality, which they said was a French problem too.
READ ALSO: Who is Adama Traore and why are there protests across France in his name?
Police in France have long vehemently denied accusations of institutional racism, both generally and through identity checks. One union decried the lawsuit as unjust and biased.
"It's a bit too easy to denounce systemic control on the basis of spurious, truncated, very biased reports," Alternative Police Union wrote in a press statement.
Denouncing the class action "political and dogmatic manoeuvre" by actors known for their "anti-police" attitudes, Alternative Police said it was an attempt to turn the interior ministry against the police just as France embarked on national conversations to improve their relationship with the country's citizens.
ANALYSIS: How did France's relationship with its own police get so bad?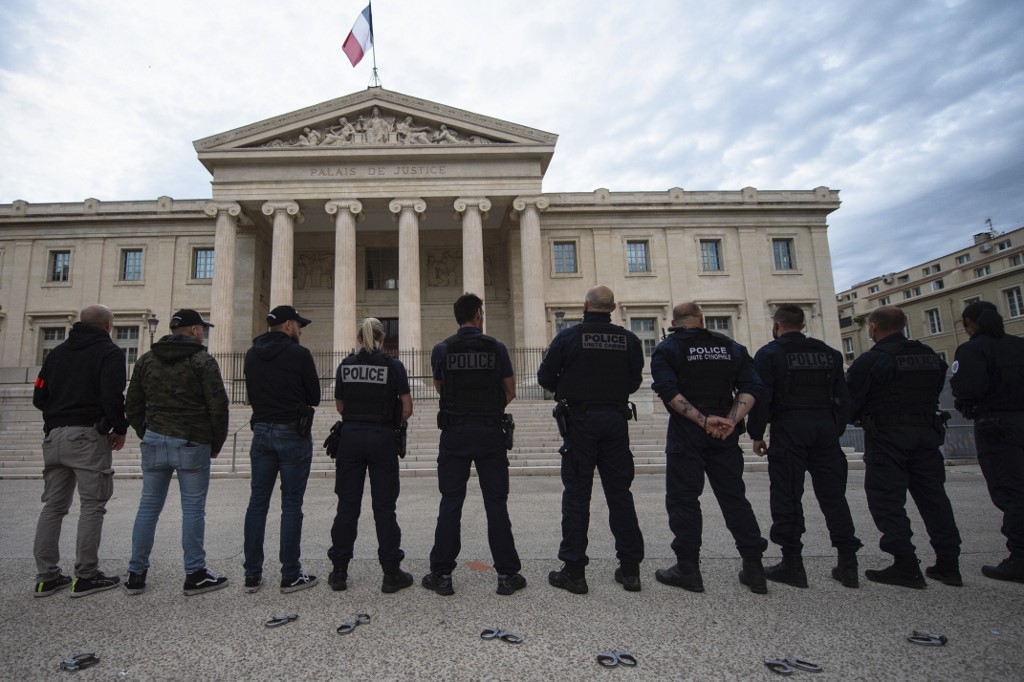 Police officers in France threw their handcuffs on the ground in protest after the French government considered to ban a controversial "chokehold" tactic in June 2020. Photo: AFP
President Emmanuel Macron launched the talks, known in France as "Beauvau de la sécurité", after three police officers were caught on video brutally beating up a Black musician in Paris.
The NGOs demanded that, during these talks, the government "tackle the specific problem of discriminatory identity checks and its deep causes, in a serious way to end these abuses, in line with France's obligations under national and international law."
"Deep structural reforms are needed to address this systemic discrimination," they said. 
The French Republic was founded on principle of universalism that effectively bans public institutions from collecting data of ethnicity or religion.
Enacted to protect minorities from discrimination, critics have said for years that this "colour-blind" policy has become counterproductive, causing the state to be blind to racism rather than skin colour.
ANALYSIS: Is France really 'colour-blind' or just blind to racism?
French police have been at the forefront of the debate, as their identity checks are based on a person's appearance, but – due to the principle of universalism – they do not keep records of ethnicity of the people checked.
A study carried out in 2009 in Paris by the Open Society Justice Initiative and French state research body CNRS showed that black people were six times more likely to be stopped for their ID than whites.
People with features seen as "Arab" were eight times more likely to be asked to show their papers.
In a more recent report in 2017, the French rights ombudsman said that young men "seen as black or Arab" were 20 times more likely to be asked for ID than young white men.
One man included in the NGOs letter said to have experienced ethnic profiling by the police repeatedly since he turned 16, "sometimes three times a day."
During a recent stop, he said, the police "violently pinned me up against the wall. One of the officers touched my private parts. Then he hit me in the stomach and called me a 'dirty Arab'."
Rights groups have long called for people targeted by ID checks to be given a receipt which they could produce to avoid being asked repeatedly for their papers.
The prime minister, interior minister and justice minister – all specifically targeted by the NGOs – have four months to respond to their demands.