The Mediterranean city in the east of Spain ranks top in the annual Expat Insider Survey published by InterNations.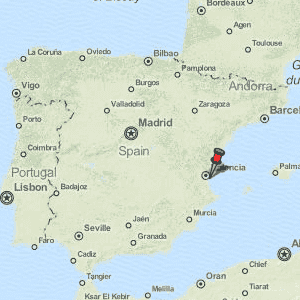 More than 15,000 expats participated in the survey which analysed 66 cities around the globe during March 2020 in pre-Covid times and before the global pandemic sparked lockdowns.
The survey placed four Spanish cities in the top ten worldwide; Valencia in first place, followed by Alicante (2nd), Málaga (6th), Madrid (9th). 
Spanish cities overwhelmingly score high for the ease of settling in and quality of life indices but score less well when it comes to urban work life, because Spain can't compete on the work opportunities front.
The city of Barcelona lags far behind in 25 place since expat life seems to be most expensive there: it ranks far behind the other Spanish cities in both the Finance & Housing and the Local Cost of Living Indices.   
So what's so great about Valencia?

Photo by travelnow.or.crylater on Unsplash
Well, according to the survey which asked more than 15,000 expatriates representing 173 nationalities and living in 181 countries, the Spanish city scored the best in all five indices but one.
It ranked first worldwide in both the Quality of Urban Living and the Local Cost of Living Indices.
In fact, 94 percent of expats rate the local cost of living positively (compared to 46 percent globally), and 91 percent consider healthcare easily available (vs. 74 percent globally) which places the city first in the Health & Environment subcategory.
The climate is also a big draw with Valencia ranking second in that category thanks to conditions that are not too hot or too dry but with plenty of sunshine and a sea breeze that means summer temperatures usually max out at between 32-35C, far more hospitable than the over 40C found in parts of Andalucia and inland Spain.
Valencia also ranked well for its leisure options (4 in the survey) with vast stretches of beach within the city, the warm Mediterranean to enjoy swimming, watersports and sailing as well lots of parks and bikes routes and hills to explore inland.

Photo by Paul Povoroznuk on Unsplash
It's also easy to get settled in Valencia. More than four in five expats (84 percent) find it easy to get used to the local culture (vs. 61 percent globally), and 91 percent say that the local residents are generally friendly (vs. 68 percent globally).
And more than four out of five expats in Valencia (82 percent) find that housing is affordable in the city, compared to 41 percent globally.
"The quality of life and the cost of living" are what makes Valencia great, according to one American expat who responded to the survey.
Where Valencia, and indeed all Spanish destinations, score badly is in the Job and Career categories.
Valencia ranks 62 out of 66 in this section with 46 percent of expats living in Valencia admitting that they are unhappy with their local career opportunities.
"Finding employment has always been difficult," responded a French expat living in Valencia.
But all the reasons that make Valencia a favourite among expats are also found just down the coast in the region's second city Alicante, which ranks a close number 2 on the list beating Lisbon, Panama City and Singapore.
Malaga appears at number 6 on the global list and Madrid at number 9, although Spain's capital scores the most points globally for "leisure options".
Barcelona however doesn't make it into the top ten or even top 20. In fact it ranks 25th out of 66 cities in the world. Only 53 percent of expats are satisfied with the state of the local economy (vs. 63 percent globally). According to the survey 28 percent of expats in the city are dissatisfied with their financial situation (vs. 21 percent globally), and 67 percent find local housing unaffordable (vs. 41 percent globally).
"I do not like the working conditions, the pay is too low, and the rents are high," remarked one German expat.
READ MORE: