As Italy's general election nears, The Local is publishing a series of articles introducing the key parties and political figures you need to know about.
Here's a quick guide to Italy's League (Lega), its history, policies, support, and key figures.
Origins
Italy's League (Lega in Italian) was founded in 1991. That might sound young but it actually makes it the oldest party in Italy's last parliament.
For most of its life, the League was the Northern League (Lega Nord). The party was born as a federation of several regional parties from northern and central Italy (Veneto, Lombardy, Piedmont, Liguria, Emilia-Romagna and Tuscany), and its main purpose was to push for federalism and greater autonomy for the north.
In the lead up to the 2018 general election, however, the group changed its name and rebranded as a something of a nationalist, nativist party, with 'Italians first' (Prima gli italiani) as its slogan.
The party's current full name – which no one ever uses – is in fact Lega per Salvini Premier, ('League for Salvini Prime Minister'), highlighting its emphasis on getting leader Matteo Salvini into the top position. This outcome seems unlikely for the September 2022 elections, however, for reasons discussed below.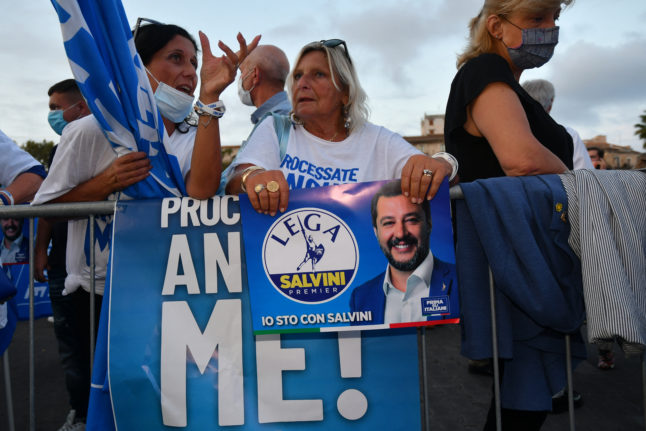 READ ALSO
Ideology
In the beginning, the League's aims were focused on achieving more power for Italy's regions – particularly the northern ones. The party popularised the concept of 'Padania', an imaginary Italian macroregion encompassing everything north of Tuscany, Marche and Umbria, and alternately pushed for greater fiscal autonomy and all-out secession.
Since the party's 2018 election rebrand, however, it's moved increasingly further away from this kind of separatist talk. Salvini now focuses mainly on crime and immigration, frequently inveighing against both on his social media accounts; during his tenure as interior minister in 2018-2019, he passed the anti-migrant 'Salvini decree'.
This has led to the League being branded in the press as a far-right party, but political scientists have suggested that 'hard-right populist' might be a more accurate label, as the group doesn't really have a fixed ideology and – unlike its 2022 coalition partner Brothers of Italy – isn't descended from any of the post-fascist parties that sprang up in Italy after Mussolini's fall.
The League has always been critical of the EU, but in recent years has moved away from talk of monetary sovereignty. The party's policies for the 2022 election include a 15 percent flat tax, creating offshore 'hot spots' to process asylum seekers, stepping up internal security spending, and changing Italy's political system from a parliamentary democracy to a French-style presidential one.
Salvini's historically close ties to Russia have come under renewed scrutiny lately following Russia's invasion of Ukraine. At a recent joint press conference with coalition partner Brothers of Italy, he said the EU should 'rethink' its sanctions on Russia – causing Brothers of Italy leader Giorgia Meloni to be pictured burying her face in her hands.
READ ALSO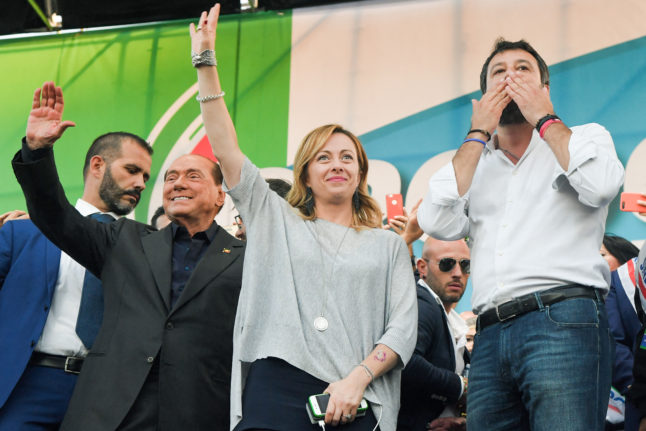 Support
The League won just under 18 percent of the vote in the 2018 general election, making it the second largest party in Italy's parliament after it joined forces with the populist Five Star Movement to form a ruling coalition.
That alliance didn't last long, with League pulling out of the government in 2019 in an attempt to capitalise on its success in the polls by forcing a snap election. It didn't work, and only led to the party losing its place in government to the centre-left and Salvini forfeiting his positions of interior minister and co-deputy prime minister.
Since then, Italy has had two more governments, both of which collapsed, and the League has seen its support slide several points, down to around 14 percent.
Despite its relatively low approval ratings, the League is nonetheless set to play a key role in the next government thanks to its decision to ally itself with Berlusconi's Forza Italia and Meloni's Brothers of Italy party, which as of early September 2022 were polling at 7 percent and 24 percent respectively.
This 'centre-right' or centrodestra (in reality, hard-right) coalition is expected to sweep a majority in the September 25th elections.
Big names
Umberto Bossi — a former rock singer and laboratory technician — was the founder of the League and led the party until 2012. He allied the Northern League with Silvio Berlusconi's Forza Italia in three coalition governments during that time, though the relationship was a rocky one. He resigned over alleged appropriation of party funds in 2012, and in 2017 was convicted of fraud.
Matteo Salvini has led the party ever since. He's noted for his strong anti-immigrant policies and rhetoric, which he disseminates via his social media machine la Bestia ('the Beast'), and is the subject of an ongoing kidnapping trial for blocking a migrant rescue boat from docking in Italy in 2019. Having had a turn as interior minister and deputy prime minister, he now has his eye on Italy's top job – but because his party's not the largest in his coalition, that title's expected to go to Giorgia Meloni, a dynamic that will no doubt be a source of tension if the right does come to power in the next election.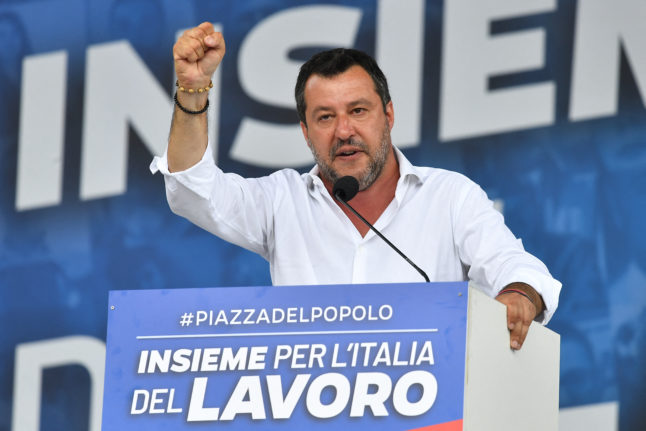 READ ALSO: Your introductory guide to Italian politics