Germany is renowned for having some of the strictest laws for opening hours in Europe, much to the frustration of many modern shoppers.
Not only are the majority of shops closed throughout Germany on Sundays, but during the week they often shut earlier in the evening than in most other countries.
After the first country-wide laws on opening hours were set out in 1900, by 1919 it was illegal for shops to open on Sundays and, on weekdays, shops could only be open from 7am to 7pm. 
The reasoning behind this was not only religious, as in certain faiths the Sabbath is considered a day of rest and a day to honour God, but also to take the interests of workers into consideration.
Making it a legal requirement for people to have a day off on Sundays meant people were guaranteed a day to relax at home and to avoid a 7-day work week. Because of this, the concept of a 'Ruhetag' (resting day) is held dear to many Germans.
Having a chilled Sunday is also pretty much unavoidable throughout the country; some of the only things you can actually do are eat in restaurants or cafes, go for bike ride, or visit a museum. 
And if you're thinking that Germany seems a little behind the times in this world of 24-hour consumerism, you might be right.
For a long time, the country's shop opening hours were stuck in the 1950s; a law passed in 1956 stated that shops could only be open until 6:30pm on weekdays and until 2pm on Saturdays. The law also forbade shops from opening on Sundays.
These regulations were kept in place in West Germany with almost no amendments for 40 years and during this time they were the most restrictive hours in Europe.
Meanwhile, East Germans actually had more flexibility to shop when it suited them.
Despite the smaller range of products available, they could enjoy later opening hours in the week and in many places could even shop on a Sunday. When the wall came down in 1989 though East Germans lost some of this freedom.
Then in 1996, the Bundestag started to relax some of the laws by allowing shops to open until later in the evening – 8pm on weekdays and 4pm on Saturdays – in the month leading up to Christmas.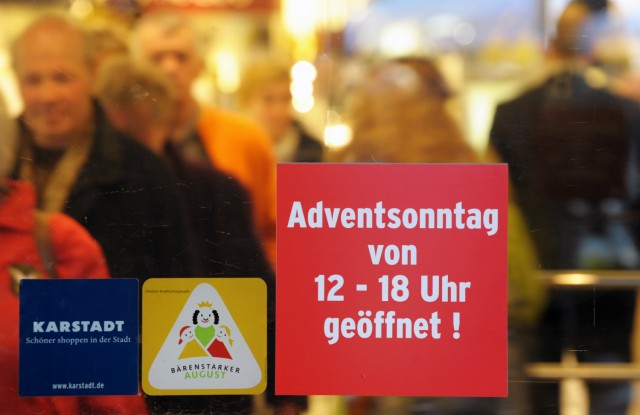 An Advent Sunday opening hours sign in a department store window. Photo: DPA
In 2003 opening hours on Saturdays were extended to 8pm but the big change really came in 2006, when the issue of opening hours was placed in the hands of the state rather than being managed at the federal level.
Berlin leapt at the chance to give shoppers more freedom, and other states quickly followed suit.
Sundays continue to be a 'Ruhetag' throughout the country today; look out for the occasional miraculous day once every few months when shops are allowed to have special Sunday opening hours, usually because of a public holiday during the week.
Things have also slowly begun to change, as in recent years, small corner shops – known as 'Spätkaufstellen' or 'Spätis' – open late at night or on Sundays, have begun to emerge in cities across the Bundesrepublik.
Without Spätis, the disorganized shoppers and night owls of Deutschland would likely be left to starve and, perhaps more importantly, unable to buy a beer for the road.
But while opening hours regulations are slowly relaxing in the country, with many supermarkets open until 11pm or midnight, German shopkeepers don't always seem keen to take advantage of this.
For example, though shops are allowed to stay open until midnight on Saturdays nowadays, it is still pretty common to see places closing as early as 3pm.
In a survey by Spiegel Online in June, 61 percent of respondents said shops should be able to decide for themselves whether they want to open on Sundays.
On the contrary, large chains such as Rossman and Hornbach told Spiegel Online they do not think opening their doors on Sundays would lead to a significant increase in their sales and profits. "We are very happy with the current situation," Rossmann said.
It seems shops across Germany aren't legally going to be able to fling open their doors on Sundays anytime soon. But at least over the past few decades changes have been made, albeit slowly.
In the meantime, consider yourself lucky if you live in a big city as there's a chance you'll come across some shops open on the day of rest. 
And despite a smaller selection of goods, you might also be able to find items you need at petrol stations and at stores in train stations around the country, no matter what day of the week it is.