National weather agency SMHI downgraded its weather warning for southern Sweden, which had warned of winds reaching up to 90 km/h on Wednesday evening, early on Thursday morning.
"It could be a bit windy still, but it will subside during the day," said meteorologist Charlotta Eriksson.
The Öresund Bridge between Malmö and Copenhagen re-opened for traffic at around 1am after having been closed for a few hours due to the strong winds, but drivers were warned to take it easy.
Several regional trains in Skåne were still cancelled on Thursday morning, because there was a risk that trees may have toppled onto the railway tracks overnight.
But trains on the Eslöv-Teckomatorp-Helsingborg, Malmö Hyllie-Ystad, Ystad-Simrishamn and Kristianstad-Karlskrona started running again in the afternoon, according to operator Skånetrafiken's update after 2pm.
Compared to continental Europe, Sweden appears to have escaped the stormy weather relatively unscathed. Police said there had been no reports of major storm-related accidents.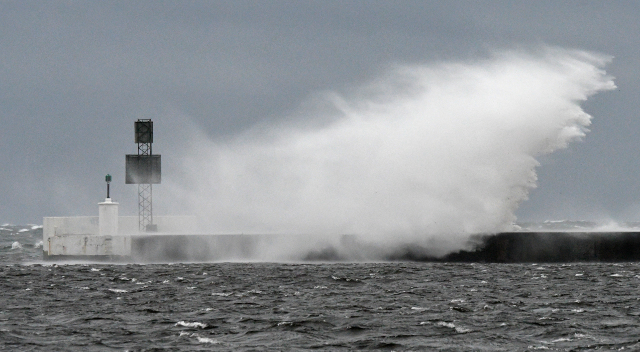 The pier at Vellinge near Falsterbo. Photo: Johan Nilsson/TT
SMHI said that the parts of the storm that reached southern Sweden turned out to be not as strong as feared. The strongest winds were registered at sea between Sweden, Germany and Poland, and the strongest gusts of wind recorded in Sweden was at the south-western tip of Falsterbo, 101 km/h.
Several ferries were cancelled on Wednesday, but were expected to run as normal on Thursday.
A Scandinavian Airlines flight had to interrupt its landing at Sturup airport outside of Malmö because of strong side winds and was diverted to Ängelholm on Wednesday evening. But on the whole air traffic was not affected and no knock-on delays were expected on Thursday, said airport operator Swedavia.