And one children's hospital in Rome reported a tenfold year-on-year rise in measles admissions in the first four months of 2017.
The pediatric chief of the Bambino Gesu hospital said on Friday that of the 47 admissions – up from just four in the first four months of 2016 – 18 had complications. 
The news comes as over 20,000 children are thought to be at risk of infectious diseases following revelations that an Italian nurse 'pretended' to administer vaccines while really throwing away the phials. 
The Treviso nurse could face a jail sentence of up to ten years over the accusations, and all children considered at risk will undergo repeated vaccinations as a precautionary measure.
As well as measles, mumps and chickenpox vaccinations, the Treviso case relates to vaccines for TBE, diphtheria, tetanus, whooping cough, polio, pneumococcus and HPV.
Health authorities have been warning of a rise in infectious diseases in Italy for some months, as the anti-vaccine movement appears to grow. Italy's health minister in March called to "rapidly boost" vaccination cover and for non-vaccinated children to be banned from public daycare centres.
And the debate has quickly grown political, with the anti-establishment Five Star Movement heavily criticized for their part in raising doubts over the efficacy of vaccinations.
Italy was one of the countries where discredited claims of a link between the combined measles, mumps and rubella (MMR) vaccination and autism had a significant impact on public perceptions of the safety of the jab.
That was partly because a local court in Rimini awarded damages to the family of a young boy with autism in 2012 on the grounds that his condition had most likely been caused by the MMR vaccination. The ruling was overturned on appeal three years later.
But Five Star Movement leader Beppe Grillo has also been criticized for the party's role in propelling the anti-vaccine movement.
Grillo accused the New York Times of "fake news" over an article titled 'Populism, Politics and Measles' in which the paper said he had "campaigned actively on an anti-vaccination platform".
"There is nothing to support this lie," said Grillo in his blog. 
Observers immediately pointed out however that the party had in 2014 proposed a law "for better information and possible denial of administering vaccinations" – and Grillo was one of the signatories.
The proposal included the line: "Recent studies have brought to light the link between vaccinations and specific illnesses such as leukaemia, poisoning, inflammation, immunodepression, inheritable genetic mutations, cancer, autism and allergies."
The full text of the bill (in Italian) is available on the official website of Italy's lower house of parliament.
And in his blog, Grillo has several times referred to the supposed side effects of vaccines.
In 2010, a blog post titled 'You can die from vaccinations' written by Nik IlNero – a Bologna Five Star activist – said he had met the father of a boy who suffered "irreversible damage" from a polio vaccine.
And in 2015, Grillo wrote that "in very rare cases, side effects can be as severe as the induction of the same disease to which you should be immune". In that post, he called for a change to Italy's health policy surrounding mandatory vaccinations: "Vaccinate less and vaccinate better!" 
Ex-premier and leader of the Democratic Party Matteo Renzi called on Grillo to "take back" his previous comments on vaccines, to which Grillo responded – in a blog – that the falling numbers of vaccinations was a "failure of Renzi's government".
In the meantime, Italian doctor and specialist in vaccinations Roberto Burioni, said that Italy had "made a bad impression globally for the umpteenth time" with the rise in measles cases.
He accused Grillo of creating "beautiful lies", saying: "Science tells the exact opposite story, and these lies only have the effect of scaring parents, endangering the health of children and adults."
READ ALSO: Italy debates fines and prison terms for people who spread fake news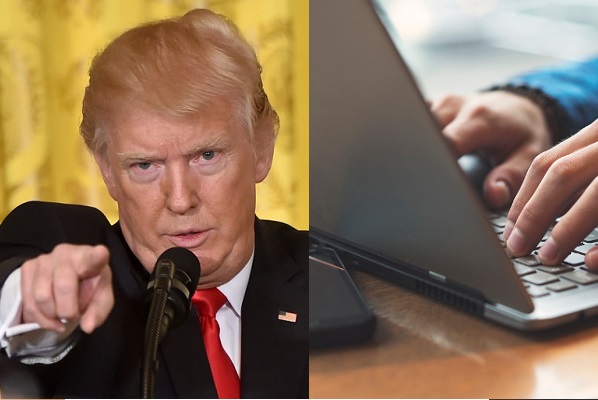 US President Donald Trump has accused various media platforms of being 'fake news', while denying claims that fake news helped influence the 2016 election. Photos: Nicholas Kamm/AFP, LukaFundUk/